I-League
I-League 2017-18: Churchill Brothers request AIFF to review relegation on poor refereeing grounds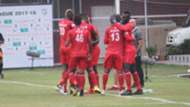 Churchill Brothers were relegated to the second division of the I-League after they lost 1-0 to Minerva Punjab, in Panchkula on Thursday. However, Goal can confirm that the Goan side has requested the All India Football Federation (AIFF) to review their relegation on two grounds. 
Firstly, the Churchill management is extremely unhappy with the string of refereeing decisions that have gone against the club and secondly, they are arguing that the club is the only representative from Goa in I-League. The argument is if Churchill gets relegated, then Goa will have no representative which will be detrimental to Goan football. 
"After the Indian Arrows match, I am very unhappy with the refereeing standards of the league. They have denied us legal goals and have not awarded us clear penalties which were in our favour. Then from Goa, there is only one I-League team. To benefit Goan football there must be at least one representative in the top division," said Churchill Alemao, owner of Churchill Brothers.
The Nationalist Congress Party leader is also not pleased with the lack of provision of appealing against a decision by the club or player to the apex body. 
"This is not a village tourament. This is I-league. AIFF's ruling that clubs cannot appeal referee's decision is very wrong. In European leagues there is a provision of review but here we do not have that.  Even, in Indian judicial system we can appeal to higher courts if we are not satisfied with the decision," fumed Alemao.
When Goal contacted AIFF, senior officials of the apex body refused to comment on this issue.