I-League
I-League 2017-18: Aizawl FC fans turn rowdy once again
12:59 AM GMT+8
26/01/2018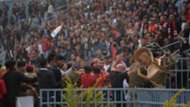 Aizawl FC hosted Mohun Bagan in a 1-1 draw at the Rajiv Gandhi Stadium in Aizawl on Wednesday and the match finished at 1-1 after Khawlring's opener was cancelled out by Manandeep Singh from the penalty-spot.
After the match, scenes turned ugly as Aizawl goalkeeper Avilash Paul was seen confronting the referee animatedly. Then shot-stopper was clearly not happy with the referee's decision to award the spot-kick which led to Mohun Bagan's equaliser and their first-ever point in Aizawl. Paul was also joined by assistant coach Izan Martin Andres as the pair protested a string of decisions which had gone against the home side.
Refree Senthil Nathal did not award a penalty to the home side when Arijit Bagui had handled the ball in the 70th minute. However, the match official did not hesitate to point towards the spot when Akram Moghrabi was obstructed by Paul in the box which disbalanced the striker when he was about to pull the trigger. 
Next, Alfred Jaryan was shown a direct red card when the skipper stamped on Moghrabi just before the end of regualtion time, a decision that did not go down well with the Aizawl management. 
Pandemonium set in when the fans started hurling water bottles towards the match officials as they were heading for the match commissioner's room. The officials had to take refuge in the fourth official's dug out and only after the stadium had been completey evacuated were they able to move to the official's room.
Just over a week back, the Aizawl FC supporters had put up a banner calling current East Bengal manager Khalid Jamil a traitor. The fans went a step ahead during the match and attacked East Bengal's dressing room with Khalid as their primary target. The match commissioner mentioned it in hispost-match report and AIFF's disciplinary committee imposed a fine of twenty five thousand rupees on Aizawl FC.
On Thursday, the referees had to be escorted by additional police force as they left the stadium to protect them from a bunch of aggressive Aizawl fans. We have to wait and watch what punishment awaits the North Eastern club after the repetition of the same offense within a span of less than 10 days.