Mata
'I hope to change the world' - Mata reveals charity plan
10:37 PM GMT+8
04/08/2017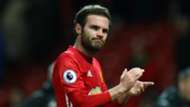 Manchester United midfielder Juan Mata is hoping footballers around the world will join him in donating to and supporting the charity fund Common Goal.
"Today, I am launching something that I hope will help to change the world, even if only in some small way," Mata wrote in the Players Tribune. "And I hope that other footballers around the world will help me in this goal."
Get Manchester United odds at the EPL title
In the piece for the publication, Mata details his journey through the game and spoke of how his grandfather's passing last season made him evaluate what he wished his legacy to be.
Mata explained how he has decided to give back to the less fortunate in hopes they can have a similar chance that he had, and promised to donate one per cent of his salary toward the Common Goal fund.
"I thought about everything football had given me," Mata wrote. "And I thought about what I wanted my legacy to be.
"I knew how lucky I was to have the opportunities I'd had — and that not everyone has a family like mine.
"And even though I've been engaged with charities before, I knew that I wanted to do something more. I want to make sure that other kids get the chances I had.
"So starting today, I am pledging 1% of my salary to Common Goal, a collective fund — run by the award-winning NGO streetfootballworld — that supports football charities around the globe. It's a small gesture that if shared can change the world."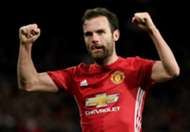 What Mata hopes is that he is the first of a worldwide effort to support the game through footballers' local charities and organizations.
"I'm asking my fellow professionals to join me in forming a Common Goal Starting XI. Together we can create a movement based on shared values that can become integral to the whole football industry — forever.
"I am leading this effort, but I don't want to be alone."
Mata also hopes this effort moves beyond individual players and to the entire footballing industry.
"The focus now is on contributions from players, but the the long-term goal is to unlock 1% of the entire football industry's revenues for grassroots football charities that strengthen their communities through sport."
Mata also discussed the impact of visiting a a charity in Mumbai, India and seeing the children enjoying the game despite the difficulties they faced due to poverty. The experience cemented his desire to help children around the world get an opportunity through the beautiful game.
Neymar: I wanted challenge bigger than Barca
"They knew we were there to help, and there was this tangible energy in the air. And, I think, in the same way that I gave my grandfather life — these children were giving me life.
"So now I would like to call upon my fellow footballers to help. We have so many opportunities simply because we play a children's game. We are so lucky to live a dream. Let's come together and help kids everywhere experience that same light and joy. By doing so we can show the wider football industry that Common Goal needs to happen and that it will happen, because it's right."