Arsenal
How does Wenger solve Arsenal conundrum with there no logical explanation for sorry slump?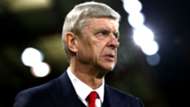 ---
COMMENT
---
January 22, 2017: Down to 10 men, pegged back by an Andre Gray penalty in the 93rd minute and with Arsene Wenger embroiled in a childish shoving contest with the fourth official after being sent from the touchline, Arsenal were not in a happy place.
In the 98th minute, though, the Gunners were awarded a penalty, Alexis Sanchez converted and three points were snatched from a dogged Burnley side – few could have accused the hosts of not caring on an emotionally-charged afternoon in north London.
'Wenger out' crusade goes global
At the final whistle, the home side had stretched their unbeaten run to six games in all competitions and were celebrating a fourth victory in five Premier League outings – with a remarkable comeback from three goals down at Bournemouth representing the only blot on that particular copybook.
Wenger told the BBC afterwards: "Every week and every game is an unbelievable fight for everybody."
Wales international midfielder Aaron Ramsey had previously said of a title race being dominated by Chelsea, but a battle Arsenal were still very much in: "It's going to go right down to the wire and we don't want to have any slip ups which might cost us in the end."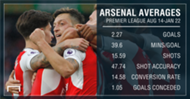 February 4, 2017: A mere two weeks after battling their way past Burnley to keep optimism building around the Emirates, Arsenal trudged off the field at Stamford Bridge having been second best throughout against capital foes Chelsea.
Four days earlier, a terrible start against Watford had condemned Wenger's team to a 2-1 defeat in a contest which can now be regarded as offering the first signs of the wheels falling off the Arsenal bandwagon.
Henry: Arsenal job? I don't know
March 18, 2017: Progress has been made to the semi-finals of the FA Cup, but the Gunners find themselves in a dark place as Tony Pulis once again proves that he holds an Indian sign over Wenger in a 3-1 victory for West Bromwich Albion at The Hawthorns.
Arsenal are now at their lowest ebb, with a humbling 10-2 aggregate defeat to Bayern Munich having seen their Champions League dreams crushed at the last 16 stage for the seventh successive year, while four defeats in five Premier League fixtures have cast serious doubt over their involvement in that competition for 2017-18.
There is, of course, mounting unrest off the field to take into account as well, with feelings of frustration regarding the direction the club is taking under Wenger that have been left simmering for several years suddenly coming back to the boil – with protests taken from the streets to the sky.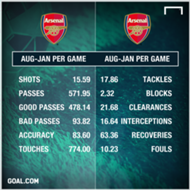 Long gone is the talk of fighting spirit and a potential top-flight title tilt, with those words of encouragement replaced by accusations intended to rock the club to its core.
Condemnation lies around every corner, with Arsenal stars past and present at a loss to explain why a campaign which promised so much has been allowed to implode and become a sporting circus in which the leading characters are cast as haunting clowns rather than entertaining ones.
Thierry Henry told Sky Sports after the West Brom defeat: "They had nowhere near the desire, commitment and attitude required to win a game in the Premier League. You have to win at West Brom and they couldn't do it. Especially the way they lost, it was all about attitude." Alex Oxlade-Chamberlain also said: "We're bitterly disappointed and we're sorry to the fans. It's not acceptable for Arsenal football club to lose in the way we did today. I'm not sure it's going to get any easier so we've just got to battle our way out of this."
Wenger's side had previously been accused of 'giving up' in their European exit by Roy Keane, while Rio Ferdinand and Harry Redknapp are among those to have suggested that the players 'don't care' if their under-fire manager stays or goes this summer.
To see commitment and desire questioned is just about the worst criticism a sportsman can face, with the suggestion being that they are no longer fit for purpose and are in some way letting down both themselves and those who place them on a pedestal above mere mortals.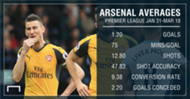 Passion can often outweigh ability in the eyes of those on the outside looking in, with cult heroes made of those who counter a lack of technical talent with a never-say-die attitude and character which prevents them from giving anything less than 100 per cent.
Even collective setbacks can be forgiven if those watching on can see that defeat is not the result of a lack of effort, with such reversals allowing for considered post-match assessment over a few pints rather than a demoralising drowning of the sorrows.
Man Utd monitoring Ox and Ozil
For Arsenal supporters, the most infuriating aspect of the club's current sorry slump is that there is no logical explanation for it.
This is – quite literally following another typically quiet January transfer window under Wenger – the same squad that offered hope earlier in the campaign, with only minor adjustments made to a side which finished second in 2015-16.
Something has happened, be that physical, mental or tactical.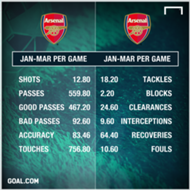 A side that was averaging over two goals a game, at a rate of one every 39 minutes, is now mustering just one effort per 90 minutes, with 75 minutes passing between each one, while more than two in each outing are being shipped at the opposite end of the field.
You do not need to be Le Professeur with over 30 years of coaching experience to realise that a recipe for disaster has been concocted.
Ozil responds to transfer speculation
Arsenal are now offering less than they were in just about every department – taking fewer shots, playing fewer passes and being forced to undertake more defensive work than a team famed for its ability to contain and control would be expected to face.
Can the season still be salvaged? Will another FA Cup triumph help to paper over the cracks? Should Wenger go regardless? What is needed in the summer – a clearing of the decks or careful tinkering?
For the Gunners, there are far more questions than answers at the moment and unless they can show over the coming weeks and months that they are capable of righting the wrongs – starting against Manchester City on Sunday – then there is a very real danger of the rot that has set in bringing the house down.