WTF
'He's back' - Kroos reacts to Goldberg's WWE return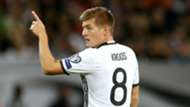 ---
EXTRA TIME
---
Germany midfielder Toni Kroos was one of many wrestling fans around the world delighted to see the return of Goldberg at WWE's Survivor Series.
Goal 50: The best footballers of 2016
The 49-year-old retired from wrestling in 2004, leaving WWE after a defeat to Brock Lesnar, but faced off against the same opponent in Toronto on Sunday night as he made his comeback.
Kroos took to Twitter to show his excitement at Goldberg's return after 12 years, sharing the video on his timeline and writing 'He's back!!!'
He's back!!! https://t.co/DGo3YiOUWQ

— Toni Kroos (@ToniKroos) November 21, 2016
The match was a rematch of the duo's Wrestlemania XX event where Lesnar came out on top, but this time, Goldberg had his revenge, hitting Lesnar with two spears and then a Jackhammer finishing move to end the match after just 1 minute and 25 seconds.
This is not the first time football and wrestling have crossed paths. Three-time WWE World Heavyweight Champion Sheamus is a noted Liverpool fan, even singing 'You'll Never Walk Alone' at a wrestling event in Manchester to annoy local fans.
Hang time w/ the boys. Good to see my bud - one of the best dudes I know. #Beckham pic.twitter.com/G9nbaOD7tu

— Dwayne Johnson (@TheRock) July 19, 2014
Rey Mysterio is often spotted at Mexico matches, and has revealed himself to be a Real Madrid supporter, while Dwayne 'The Rock' Johnson is good friends with former Manchester United midfielder David Beckham.