Manchester United v Manchester City
Herrera blasts derby dive booking as he faces Man Utd ban threat
10:49 PM GMT+8
11/12/2017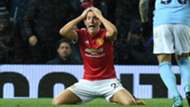 Ander Herrera has blasted the yellow card he picked up for diving in the Manchester derby and says he should be able to appeal.
The Manchester United midfielder was booked during the second half of an eagerly-anticipated encounter at Old Trafford as the home side pushed for a late leveller.
Trailing 2-1 with time running out, Herrera went down in the box under pressure from City defender Nicolas Otamendi.
Rather than being awarded a penalty, the Spaniard was cautioned, leaving Jose Mourinho fuming at the final whistle and the 28-year-old walking a disciplinary tightrope as he edges closer to a ban.
Herrera told reporters on a big call from referee Michael Oliver: "I think the penalty is amazing.
"I touched the ball first and he stamped on my foot. I think everyone saw it.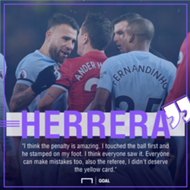 "Everyone can make mistakes too, also the referee, I didn't deserve the yellow card. In the first half [there were] the same situations with Gabriel Jesus and [Leroy] Sane and they didn't get yellow cards.
"Now that is my fourth yellow card and that is a big problem for me because I want to play every game.
"In Spain if you get something undeserved you can appeal and they take it out. That is one of the things that could improve the Premier League.
"In my opinion the organisation is the best in the world, but it is a real shame that if you don't deserve a yellow card you cannot appeal afterwards. Hopefully one day that rule can change."
Defeat to City has left United 11 points adrift of their arch-rivals in the Premier League title race .
Mourinho conceded afterwards that the battle for the English top-flight crown is "probably" over, but Herrera feels there is not much between the two leading contenders.
He added:  "I don't think they created too much just I think in the first half one good action by Gabriel Jesus.
"After that I think we controlled the game. It is true we played most of the time in our half, but we didn't have too many problems. It was very unlucky.
"It is a big punch because of the way we lost. When you play against City you can expect to have problems when they have the ball, but we didn't - that's why we feel even more disappointed."