South Africa
Heartbreak led to my heart condition, says Bafana Bafana legend Lucas Radebe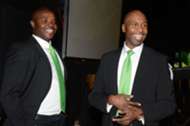 South African football legend Lucas Radebe was known as a tough tackling, no nonsense defender during his playing days, but following his retirement Radebe admits he hasn't been as hardnosed.
The former Leeds United star who hung up his boots in 2005 was diagnosed with a rare heart condition eight years ago, and the 48-year believes that his condition was brought on by the heartbreak he suffered due to the death of his wife Feziwe in 2008.
Feziwe had been battling with bowel cancer for two years prior to her death with her husband firmly by her side, and only a few months after her passing, Radebe himself collapsed while working out on a treadmill. But while Radebe revealed that he does not know what had happened at the time, he is adamant that his condition was brought on by the trauma of losing his wife.
"But I'm convinced it was related to my wife's death," Radebe told Healthy Times.
"You think' as a man' you have to be strong for the kids. But inside? Inside' I was breaking. I didn't know how I was going to cope. Fezi had helped me throughout my career. She helped make me strong. And then she just wasn't there anymore'" he explained.
Radebe had a very close bond with Feziwe and in an interview with the Sunday Mirror a few years before her death, he explained how he struggled to break the news to her.
"I really didn't know what to do. I had to tell my wife Fezi she had cancer. But he [the doctor] said it was much better if it came from me. I went to see her three times in hospital, but I just couldn't tell her," he said.
Nonetheless, things are once again looking up for Radebe who has not only recovered from his condition but has gone on to find love again, marrying Thobela Silver in 2015.