England
Has Hodgson turned into Van Gaal? England fans bemused by Kane taking corners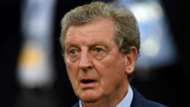 It was an encouraging start for England at Euro 2016 - but one of Roy Hodgson's decisions left fans baffled.
Harry Kane was the man Hodgson picked to take corners, even though the Tottenham striker doesn't take them for his club.
England fans took to Twitter during Saturday's clash against Russia to plead with Hodgson, while others compared him to Louis van Gaal, who famously allowed Phil Jones to take a few corners for a short time during his reign at Manchester United.
Kane taking corners. Lallana and Sterling ahead of Vardy and Sturridge. Has Louis Van Gaal given Woy some tips?

— United (@Beckham_RF) 11 June 2016
Harry Kane taking corners??? When did Van Gaal take over England??? #ENG #EURO2016

— Gareth Walker (@Gavlar46) 11 June 2016
Why is Kane on corners, Hodgson must be taking advice from Van Gaal

— Adam Patel (@AdamPatel_) 11 June 2016
Why is Harry Kane taking corners? WHY????

— ArsenalFanTV (@ArsenalFanTV) 11 June 2016
Great England Mysteries: Number 4,937

Harry Kane taking corners in Euro 2016

— HLTCO (@HLTCO) 11 June 2016
Harry Kane has taken 5% of the corners England have ever had at Euro tournaments.

— Duncan Alexander (@oilysailor) 11 June 2016
Kane has taken five corners. Two have been too deep. Two have been headed away. One led to a tame header on goal. Not sure about this plan.

— Iain Macintosh (@iainmacintosh) 11 June 2016
Not sure I'll ever get my head round Kane on corners

— Jody Morris (@morriskid) 11 June 2016
I'm fine with Kane taking the corners as long as he's quick enough to get on the other end of them when they arrive in the box. #ENGRUS

— David Schneider (@davidschneider) 11 June 2016