Premier League
Guardiola shuffles but Sterling remains the ace in the City pack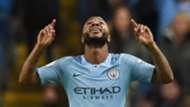 There's no such thing as a first 11 these days – particularly at a club as well-stocked as Manchester City – but if you were to sketch out your ideal line-up it's safe to assume around five or six of those players were missing from the team to take on Bournemouth today.
Sergio Aguero led the absentees – news of his non-selection seeped out earlier in the day and Pep Guardiola confirmed a slight muscle problem – with Gabriel Jesus starting up front for only the third time this season.
There was no David Silva either with his place in the team going to Ilkay Gundogan. Bernardo Silva was back too; he started and scored.
Kevin De Bruyne of course is a long way away from first-team fitness and so City's preferred attacking options were conspicuous by their absences.
And in defence too Guardiola opted to leave out his main men. Kyle Walker sat it out with Danilo making his first start of the season while Aymeric Laporte was partnered in the middle by Nicolas Otamendi.
All in all it was an unfamiliar looking City team and there was a sense – particularly at halftime – that Guardiola had tweaked it too much.
City had been on top but there was a curious apathy about their play. They weren't moving the ball as rapidly as they usually do. They managed to take the lead – with Bernardo capitalising on a Asmir Begovic save to fire home – and it was at that point of the match that you'd expect City to tear away.
It didn't happen and Bournemouth were given the platform to climb back into the contest. Eddie Howe's team are always well-drilled and it was no different here. Their five-man backline might have given up a few gaps but there was enough going forward to make up for it.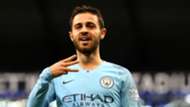 Indeed it was the right wing-back Simon Francis who was far enough up the field to fashion an equaliser for Callum Wilson. The England man's header was powerful and precise but there is the nagging sensation that Walker might have fared better in the challenge than Danilo.
He's not been fit of course with Guardiola deciding today was the day to rotate. With Watford on Tuesday and an intense bout of fixtures upcoming, City had to take the chance to rest when they could. There was a danger however that they changed one player too many.
Raheem Sterling remains non-negotiable. Where City fancied their chances by letting Gabriel Jesus and the rest of them start the match, Sterling is the one player Guardiola currently cannot do without.
The second half belonged to him; he was first denied one of the goals of the season after a slaloming dribble by a Steve Cook block. He then compensated by getting the crucial second goal.
Sterling first fed Danilo on the overlap and was there to pick up the rebound where Gabriel Jesus could not.
It was a difficult afternoon for the Brazilian, who was replaced by David Silva with 14 minutes to go. He remains eager and displays some good movement but right now looks a class beneath Aguero when he has to replace him.
City looked far more assured and comfortable meanwhile when Fabian Delph replaced Oleksandr Zinchenko, who could not stanch the bleeding in his nose. Delph offered greater balance on the left, stepping in to win the ball precisely when he had to.
There might well, however, be questioned over Phil Foden's status in the squad after this one. Guardiola insisted during the week – before the draw against Lyon – that the youngster was "ready". But are we now safe to assume that all of David Silva, De Bruyne, Bernardo Silva, Gundogan and Riyad Mahrez are all ahead of him in the queue for a slot in midfield? If not, and Guardiola is making changes, then why was today not the right time to start him?
Regardless, there was in any case enough quality in the City team to see off Bournemouth. Sterling shone throughout and Leroy Sane was also consistent. His runs gave the likes of Zinchenko, Gundogan and Laporte something to aim for – instigating the opening goal – and he was on hand to provide the pass for Gundogan's decisive third.
Guardiola shuffled and it took City longer than usual to reach their game-winning potential. Sterling – though – remains the ace in the pack.