Guardiola
'Guardiola is a f***ing Messiah!', says Noel Gallagher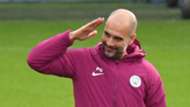 Manchester City's start to the season has supporters thrilled with the prospect of what lies in store for the rest of the campaign. 
Noel Gallagher, the former Oasis guitarist and chief songwriter, is not known for his reserve and has spoken out in glowing terms over the Catalan.
City have won 10 of their opening 11 matches of the season, opening up an eight-point gap to neighbours Manchester United – and they have done so in some style. They have scored an astounding 38 goals already, and in all competitions they have already found the net more than 50 times.
That has led Gallagher to hail the manager.
"Pep Guardiola's a f***ing Messiah!" he told Italian media as he promoted the new album of Noel Gallagher's High Flying Birds. "I think that we are playing the some of the best football that's ever been seen. And our manager is by far the best-dressed man in football. I'm very proud."
City's next challenge arrives on November 18, when they go to Leicester in the Premier League, then they tackle Feyenoord at home the following Tuesday in the Champions League.