Antoine Griezmann
Griezmann wants crazy Evra celebration in FIFA 18
11:43 PM GMT+8
08/05/2017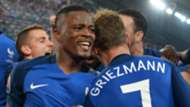 Patrice Evra marked his first Ligue 1 goal in over a decade with a unique celebration and Antoine Griezmann has been so impressed by it that he wants to see it in video game format.
Evra's goal for Marseille against Nice was his first in France's top flight in 11 years and the former Manchester United defender went crazy after finding the net, capping his celebration with some push ups.
WATCH: Evra's crazy celebration
Je veux ça sur Fifa 18 ! #TontonPat pic.twitter.com/f940L2N3D9

— Antoine Griezmann (@AntoGriezmann) May 8, 2017
The 35-year-old's demonstration of his enduring physical prowess struck a chord with the fans, but also with Griezmann, who wants to see the theatrics of 'Ton Ton Pat' in virtual format.
The France international clearly saw the funny side and wrote on his Twitter page: "I want that on FIFA 18."
Move over Paul Pogba, it looks like Evra may have started a new trend!