A-League
WATCH: 'I don't want one now' - Arnold dismisses talk of Wanderers apology
Goal Australia Chief Editor
11:45 AM GMT+8
22/02/2017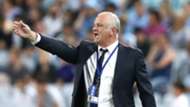 Sydney FC coach Graham Arnold has confirmed Western Sydney Wanderers haven't apologised for the Red and Black Bloc's (RBB) vulgar banner and it's too late for them to provide one.
The fallout from the RBB's decision to display a lewd and homophobic tifo at Saturday night's Sydney derby of a blue head - understood to represent Arnold - conducting oral sex has dominated the A-League news cycle this week.
While the Wanderers have acted swiftly to identify and ban 14 members of the RBB for their involvement in the unauthorised banner, Western Sydney have been criticised for their public statements on the matter.
In particular, the Wanderers have yet to apologise to Arnold and the Sky Blues' coach told reporters on Wednesday that the opportunity to do that has passed.
"I haven't heard from them for four days, so I don't want one now," he said.
"At the end of the day, I would have hoped I would have got an apology but I didn't get one. So that's life and we just move on."
Arnold insisted the banner didn't bother him - "I've got thick skin" - but revealed it has had a profound impact on his family.
'F*** off' - RBB slam FFA's response to vulgar banner
"My family are upset, to the fact where my girls have come to every game of football that I've coached and players since I can remember and they don't want to come anymore… my wife was extremely upset," he said.
Arnold dismisses talk of Wanderers apology
The former Socceroos striker, who has coached the second highest number of A-League games (174), also condemned the banner for the potential impact it could have on younger fans and families that attended the derby.
"I don't think it has any place in Australian sport," Arnold said.
Saturday's night's defeat was Sydney's first in the A-League this season and ended a 20-game unbeaten run that stretched back to the final round of 2015-16.
Western Sydney Wanderers 1 Sydney FC 0
Arnold urged his team to bounce back immediately when they visit third-placed Melbourne City on Friday.
"Our performance the other night [against the Wanderers] was outstanding," he said.
"It's just a matter of finishing off our chances and moving forward and I'm looking forward to the game on Friday night."