NPFL
Gombe United's Adamu Mohammed desires FA Cup title
11:54 PM GMT+8
01/05/2019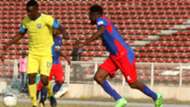 Gombe United's Adamu Mohammed has stated that a win in the final of the Gombe FA Cup final will be a good way to prepare for the visit of Abia Warriors this weekend in a Nigeria Professional Football League (NPFL) fixture.
Last week, unrest in the state forced the Gombe FA to postpone the final of the competition after the state government imposed an almost dusk-to-dawn curfew, which paralysed all activities at the North East side for two days.
The Government has since lifted the curfew and normalcy has returned to the state, and the local FA has fixed Wednesday for the final, with Gombe United up against Doma United FC at the Pantami Stadium, Gombe.
Mohammed, who was in the Gombe United team that failed to qualify for last year's final, opined that it is important that they lift the FA Cup trophy to be prepared for the clash with Abia Warriors on Sunday.
"This is a very important game for us because we have now returned to the Federation Cup after our inability to qualify last season," Mohammed told Goal.
"It has been a very tough season for us judging by our position in the league table and it is our resolved to never give up until the end of the season.
"We still have the opportunity to rescue our season and it is the reason why it is crucial that we lift the FA Cup with a win against Doma United FC to prepare for the weekend game.
"We were able to get a draw against Abia Warriors in Umuahia in the first round of the season and it is just normal that we are eyeing a win to add to our points.
"We will need something to boost our morale before the weekend and it is the reason why we should desire to win the Gombe FA Cup."
Meanwhile, the former Kano Pillars, Enugu Rangers striker said Gombe United's struggles in the league this season is the responsibility of every player to improve.
"Our form for the club has not been good this season and I believe we must do more to help the team. I know that I am also part of those to blame because with just a goal in over 10 games it is not good statistics for an attacker. I have had issues with injuries this season but it is not enough to make excuses," he added.
"It is the reason we must go into the game with Abia Warriors with the determination to win it and improve our points in the table. We have the players and if we put our acts together we can achieve a positive outcome."
Gombe United could slip out of the relegation zone with a home win over Abia Warriors, with most of their direct rivals involved in tough away games. They are presently 10th on the Group B table with 18 points from 16 games.