Mexico
Dos Santos must dazzle for Mexico in November friendlies to end World Cup doubts
10:26 PM GMT+8
07/11/2017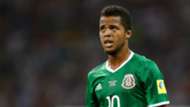 November's matches against Belgium and Poland will be crucial for every Mexico player, but nobody enters the high-profile friendly matches with more to prove than Giovani dos Santos.
October wasn't Dos Santos' month. Mexico manager Juan Carlos Osorio expressed support for the 28-year-old after he started and played an hour in Mexico's win against Trinidad and Tobago, but Gio didn't see the field in the next match in Honduras. That could just be the coach's typical rotation scheme, but after several quiet showings for El Tri and a disappointing club season with the LA Galaxy there could be more at play.
After the average night in San Luis Potosi, Dos Santos continued to be the target of criticism from the fan base, and plenty of those supporters were wondering why Dos Santos' name is on the list for these matches. Osorio said he still sees something in Gio, but even the patient manager wants more from the LA Galaxy attacker.
"We understand that the game is one of opinions, but you have to remember that Giovani dos Santos still is considered a young player and he's played more than 100 matches with the national team. We think you have to have this role in mind and understand that the changes he's having in his way of training, his life, are now showing results," Osorio said of the 28-year-old. "Today he competed at a high level for a much longer time than he did in previous matches. Now, we're hoping he can recuperate in this footballing aspect and be able to show all his talent."
There's no time like the present for Dos Santos to put his ability on display. Osorio clearly wants better play from him but also wants it for longer periods of time. Dos Santos has cooled off for Mexico over the past few years, most recently scoring in an October 2016 friendly against New Zealand. His last goal an official match came in a 2015 Gold Cup blowout of Cuba. 
Dos Santos assisted Mexico's lone goal in a winter friendly against Iceland, but Osorio hasn't called on Gio against stiffer competition. He played just one full 90 for Mexico in the Hex, spending the entire match on the field in El Tri's win over the United States in Columbus. With Hirving Lozano's excellent start to life in European club soccer and Jesus Corona continuing to get minutes for a UEFA Champions League club, Dos Santos' first challenge is not to show he deserves to start but rather that he deserves to be on the plane to Russia in the first place.
If he's given an opportunity against Belgium or Poland, and with not much time to get ready for Russia Osorio is likely to dip deep into his reserves, Dos Santos has to perform well. Being based in MLS means, barring a loan, Dos Santos will be on the training field rather than seeing competition for the next few months.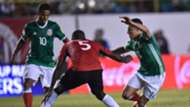 The biggest issue dogging Dos Santos isn't lack of effort or ability, it's how he fits into a team — or whether he fits into a team. His frustration was notable with the Galaxy after the team seemed to build around him this season but tactically became less and less certain of its goals during a dismal year.
"I can make a run, but if your teammate doesn't see you then your run doesn't matter," he told reporters after a 4-0 loss to Atlanta United in late November. "There are a couple things right now that we're still building on. If you see last year, I remember my numbers were different. This time, I'm working harder than last year. I'm making good runs, but not getting recognition from the team."
Osorio, always one up for an experiment, tossed Dos Santos and another left-footed player (Andres Guardado) into the midfield to see how it would work. In the Iceland friendly at the start of the year, he wanted Dos Santos to play as an inverted winger. In the Confederations Cup semifinal against Germany, Dos Santos started on the left, his biggest contribution a decent corner kick early in the second half before he was replaced by Marco Fabian.
That has to be his concern about the World Cup roster as well — that Fabian will overtake him. The currently injured midfielder has a similar profile to Dos Santos and will be facing tougher competition playing for Eintracht Frankfurt in the Bundesliga. Dos Santos has the advantage of being left-footed, but his profile can only take him so far.
Making noise against tough European opposition is the best way to snap out of the quiet spell he's stuck in and remind Osorio what he has the potential to do. He's performed for Mexico before, but in the Osorio era is yet to make any sort of impact much less turn in a signature performance. It's the perfect time for him to do just that, to strongly state his case against top-level opponents.
If he doesn't take the opportunity, he may not get many more.