U17 Women's World Cup
Ghana's Abdulai bags two big gongs at Fifa Under-17 Women's World Cup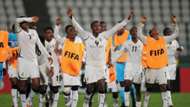 Ghana captain Mukarama Abdulai emerged among the top names of the 2018 Fifa Under-17 Women's World Cup in Uruguay as she scooped two big awards after the final on Saturday.
The 16-year-old Northern Ladies striker, who netted seven times as the Black Maidens reached the quarter-finals, finished the tournament as the top scorer.
Spain forward Claudia Pina also ended the championship on seven goals, but having played two more games than the Ghanaian, she ceded the Golden Boot to Abdulai, instead picking the inferior Silver Boot.
Spain attacker Irene Lopez, who netted three times at the event, was handed the Bronze Boot award.
For the Player of the Tournament category, Abdulai finished third, picking up the Bronze Ball, having won Woman of the Match awards in Ghana's opening two games of the tournament.
Spain's Pina, whose double helped secure a 2-1 win over Mexico in Saturday's final, was adjudged Player of the Tournament, thereby picking up the Golden Ball prize.
Nicole Perez, whose quarterfinal double helped Mexico hold their own against Ghana, finished as the tournament's second Best Player and received the Silver Ball gong.
Abdulai's goal tally of seven also leaves her as Africa's all-time top scorer at the U-17 Women's World Cup, surpassing compatriot Jane Ayieyam, who has six goals from two editions (four goals in 2012, two goals in 2014).