World Cup
Ghanaian Paintsil backs African teams to reach semifinals at Russia 2018
10:44 PM GMT+8
14/06/2018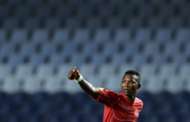 Former Ghana international John Paintsil believes it is not beyond African teams to make the semi-finals at the World Cup. 
Africa is hoping to have a representation in the last four at Russia 2018, having experienced three near misses in the past. 
At Italia 1990, Cameroon suffered a 3-2 defeat to England after extra-time. Senegal lost 1-0 to Turkey after extra-time at Korea/Japan 2002 while Ghana were beaten 4-2 on penalties by Uruguay after a 1-1 draw after extra-time at South Africa 2010.
"In the three times that African teams have played in the quarter-finals, we have always lost out narrowly," Paintsil, who featured for Ghana in the loss to Uruguay in 2010, told KweseESPN.
"That experience in 2010 is still a very painful one, but it is also one of the reasons why every one of those teams will be very motivated. 
"There has to be a firm belief that it can be done. You need that belief to do well in the World Cup, and in 2010 we had lots of it.
"I have also watched a number of friendly games of the big teams and favourites, and I have not seen anything to suggest African teams will be found wanting at the World Cup."
Nigeria, Senegal, Egypt, Morocco and Tunisia will carry Africa's hopes at this year's tournament, which opens on Thursday.
"Senegal has a very good team and the draw in the group stages has been kind to them," Paintsil remarked. 
"Nigeria may not have won their warm-up games, but we know they always show up in big tournaments."
This year, Africa's first ever representatives at the World Cup, Egypt, will play in Group A, alongside hosts Russia, Uruguay and Saudi Arabia.
Morocco have been pitted against Portugal, Spain and Iran in Group B. 
Nigeria are set to come up against Argentina in the group stage for the fifth time as both sides made Group D. Iceland and Croatia are the other teams of the group.
Tunisia have England, Belgium and Panama to battle in Group G, while Senegal, who return to the global gathering for the first time since debuting in 2002, will square off against Poland, Colombia and Japan in Group H.