Werder Bremen
German Bundesliga outfit SV Werder Bremen coming to South Africa
10:30 PM GMT+8
21/10/2018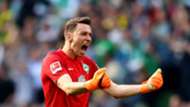 German Bundesliga giants SV Werder Bremen have announced that they will hold their winter training camp in South Africa  in January next year.
Bremen will travel to the African continent for the first time in their history as they will hope to get ready for the second half of their season.
"We were in Johannesburg a few weeks ago and were impressed by the facilities at the location," said sporting director Frank Bauman to Bremen's website.
According to a statement released by the club, the Green-Whites are set to be hosted at the Fairway Hotel in Gauteng, the hotel previously hosted the Brazilian national team during the 2010 Fifa World Cup.
Coached by Florian Kohfeldt, the team will train at Randburg FC's training ground during their stay in Johannesburg and they are planning on organising friendly matches.
"The conditions should be good for training in, especially the weather for that time of the year," said the coach.
Moreover, the club's CEO Klaus Fibry said the German Bundesliga is loved in South Africa and they also want to use the opportunity to broaden their fan base.
"The Bundesliga is very popular in South Africa. As part of this trip, we want to make sure we help to make Werder and the Bundesliga more well-known out there," added Fibry.
"There are other interesting projects which we would like to support the DFL with, for example we are planning to visit Amandla's Safe-Hub project in South Africa too," he concluded.
🧳 packen und ab nach 🇿🇦

Das Wintertrainingslager des SV #Werder findet vom 3. bis zum 12. Januar 2019 in Johannesburg statt.

👉 https://t.co/xS6SjgtwZG pic.twitter.com/fqzDs43K9d

— SV Werder Bremen (@werderbremen) October 16, 2018