NPFL
Gbenga Ogunbote relieved to end winless run with Enugu Rangers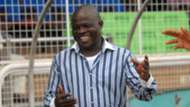 Gbenga Ogunbote was relieved to end his winless run with Enugu Rangers following Sunday's 1-0 win against Heartland at the Nnamdi Azikiwe Stadium.
The Flying Antelopes had gone without a win since their 3-0 triumph over Wikki Tourist on April 29 before Ifeanyi George's second-half strike handed them a moment to savour in Enugu.
Having returned to winning ways, the former Enyimba gaffer attributed it his ability to awaken their fast-dying confidence.
"We knew it was never going to be an easy match but we did well to get the maximum points," Ogunbote told Goal.
"Even when we could have scored more goals during the match, I thank God for the victory. I want to thank the supporters who have always stood by us. 
"It was that confidence we tried to bring back and psyche up the players, telling them they can do it."
He further lauded the fans for their support and assured they will work hard to keep up their just recovered winning instinct.
"The moment we began losing our chances, fear set in. This was a game we could have won with four to five goals, notwithstanding, the victory was important," he continued.
"This was a team we defeated at home and you will expect they would come here with full force to cause an upset. If not for our carelessness, they should have gone home with a basket of goals. 
"I just know that with this result, there is a relief in the team and I am sure the supporters will be very happy. Those of them that normally go out to watch us play, they will be convinced that we have a good team."