UEFA Champions League
'Bale made them look like d****!' - Neville mocks Liverpool with his own 'Allez' chant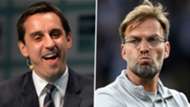 Manchester United legend Gary Neville wasted little time in mocking Liverpool in the wake of their Champions League final defeat to Real Madrid , with one of the Reds' favourite chants turned against them.
As a former Red Devil, Neville was never going to be throwing his support behind former rivals when Jurgen Klopp's side took to the field in Kiev.
He had made no secret of that fact in the build-up to the game and was quick to revel in Madrid's success after two goals from Gareth Bale and a couple of horrendous mistakes from Loris Karius handed the crown to the Spanish giants.
Neville has had to contend with plenty of banter from Liverpool supporters on social media down the years, so he snapped up the opportunity to fire some back as the Blancos toasted a 3-1 victory and a 13th European Cup triumph.
The ex-England international had been called out by famous Reds fan DJ Spoony prior to the continental clash in Ukraine, with the United icon warned that gloating messages and videos could be heading in his direction.
It was, however, to be Neville who had the last laugh as he offered his own unique take on Liverpool's "Allez, Allez, Allez" song.
As promised mate

They thought they'd conquered Europe
Celebrating six
Thank You Gareth Bale
Made them look like D@@@@
The Twenty Sixth of May
Always in our heart
United won the Treble
The scousers fell apart

Allez Allez Allez https://t.co/R4no0NUBKf

— Gary Neville (@GNev2) May 26, 2018
The original words to that tune are: "We've conquered all of Europe.
"We're never gonna stop.
"From Paris down to Turkey.
"We've won the f*cking lot.
"Bob Paisley and Bill Shankley.
"The fields of Anfield Road.
"We are loyal supporters.
"And we come from Liverpool.
"Allez, Allez, Allez."
Neville's version of that chant unsurprisingly drew a mixed response on social media, with United supporters delighting in his actions – particularly the highlighting of United's 1999 Treble-winning heroics – while Liverpool followers were left less than impressed.