Opinion
From the brink to World Cup favourites - Brazil's roller-coaster 2016
Raisa Simplicio & Rupert Fryer
2016 was a story of two halves for Brazil.
Come June, the Selecao had been dumped out of the Copa America in the early stages for the second consecutive year and, for the first time since 2002, were asking real question over whether we could be set to see the first-ever World Cup finals without them.
2016 once again brought expectations for the Selecao, despite their poor recent form. Coach Dunga was well into his second year in charge and, but the first six months were littered with disappointment.
---

READ MORE:


Brazil's WCQ campaign | Gabriel Jesus Brazil's top scorer in 2016 | PROFILE: Tite | Fernandinho shares redemption story with his mother | The boy who met idol Ney but fell for Tite
---
Around the world, debates were raging over whether the five-time world champions would ever reclaim their place among the pantheon of world football's greatest international teams.
Still reeling from 'the 7-1', there was a general consensus throughout the local media that the team hadn't made any real progress since their disastrous ending to World Cup 2014.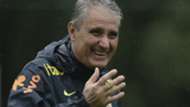 But then came a sea change. And last week Brazil closed out the 2016 international calendar with a 2-1 win over Peru – their sixth consecutive victory since new coach Tite took the reins in June.
Their qualification campaign for Russia 2018 back on track, the five-time world champions will have undergone a remarkable transformation which now has them listed among the favourites for claiming a sixth world title.
Below, Brasil Global Tour look back on a roller-coaster year for the Selecao.
---
QUALIFYING BRINGS MORE STRUGGLES 
---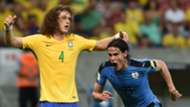 2016 got off to a bad start. They resumed the marathon of Conmebol qualifying with two contrasting draws that were met unanimously with disappointment. Though coach Dunga had yet to find any cohesive and apparent idea of play, the Selecao raced out of the traps against Uruguay in Recife. They flew into a two-goal lead, but were quickly pegged back. David Luiz was singled out for blame and has not represented his country since. And another yellow card for Neymar saw him once again pick up a needless suspension.
Ney-less, the Brazil struggled from the outset against Paraguay and found themselves two goals down shortly after half-time. Veteran striker Ricardo Oliveira pulled one back before Dani Alves hit a dramatic last-minute equaliser, but there would be no celebrations once the full-time whistle went. Outside of the last qualificaiton slot in South America, the Selecao were in trouble - and the pressure was mounting on Dunga.
---
DISASTER AT COPA AMERICA 
---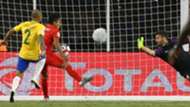 Dunga's days were said to be numbered come June. A confident Brasil Global Tour victory over Panama raised eyebrows, and expectations of the coach, who surprisingly cast aside his reactive method for a few brief moments when he unthinkably fielded a side without a specialist defensive midfielder. Gabigol scored on his debut, too, appearing to end Brazil's long hunt for a No.9.
But with Neymar sitting out of the tournament in USA in order to participate at the Olympic Games, the wheels came off Brazil. The jubilation following a 7-1 demolition of Haiti was quickly followed by complete disaster, as Brazil were incredibly sent home at the group stage after an unimaginative showing saw them go down 1-0 to Peru. Days later, Dunga was sacked.
---
THE PEOPLES' CHAMPION
---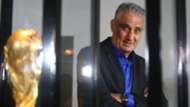 Following Dunga's exit, there was only really one candidate for the job. After twice being overlooked for the role, Tite could be ignored no more after returning from a sabbatical touring Europe to instantly lead Corinthians back to the league title. He took longer than expected to accept the offer, but was welcomed unanimously by fans and media alike when he finally accepted. 
The biggest news following his official unveiling was that he was not going to lead the team in the upcoming Rio Olympics. Instead, he headed straight to USA to cast an eye over some of the Selecao's future opponents. An optimism returned to the camp almost instantly. It was a new beginning. 
---
THE GOLD RUSH
---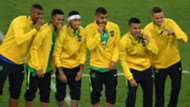 With Tite electing to spend his time preparing for the return of the World Cup qualifiers, the relatively unknown Rogerio Micale was installed as Olympic boss. And he was mightily impressive from the outset, adding to the new-found sense of gusto that arrived with Dunga's departure.
The Men's Olympic Football Tournament is taken with varying degrees of seriousness around the world, but for Brazil it was huge. Not only was it the lone title that had eluded them to date, but it was a vital chance to win back the support of a local public who had become increasingly disillusioned with the Selecao. They got off to a rocky start, but roared to victory, with Neymar striking the golden spot-kick. It wasn't the senior side, but it was undoubtedly the beginning of their resurgence.
---
THE REBIRTH: SIX OF THE BEST
---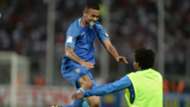 2016 may well have ended where it had begun, with World Cup qualifiers, but everything else had changed. In his first match, Tite some brave and slightly surprising choices, which paid off hugely. Firstly, he drafted in teenage forward Gabriel Jesus as a centre-forward; secondly, he brought back Paulinho from China and threw him straight in for his first appearance since World Cup 2014. Both were sensational in Tite's opener vs Ecuador: Paulinho stopped the opponents from playing and Gabriel Jesus put them to the sword by winning a penalty before netting twice to seal 3-0 win Quito.
It was a remarkable start – and it was just the beginning. Next up, Neymar exorcised some personal demons by scoring the winner against Colombia. There inevitable teething issues, with Tite having so little time to work with his players, but the signs were there: Brazil had a cohesion once more, they had a No.9 and, most importantly, they found an idea of play. Bolivia were cast aside 5-0 in Natal before Tite's new-look Brazil side returned from Venezuela with a 2-0 win. And then came the big one: Argentina, back at the Mineirao, home of the 7-1. A resounding 3-0 victory followed as ghosts were banished. The Selecao then rounded off the year with a sixth consecutive victory as they beat Peru 2-0 in Lima.
What a difference a coach makes. What a difference six months make. Brazil are back. 2016 was one hell of a ride.