Ligue 1
From Ligue 1 to superstardom: Carlos Bianchi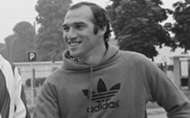 Two young children strutted the turf at Parc des Princes in a manner befitting their father. Draped in Paris Saint-Germain shirts, on their backs one wore "King" and the other "Legend".
The bespoke jerseys on the field that evening were in reference to the latest Zlatanism: "I arrived as a king and left a legend." Those were the words of Zlatan Ibrahimovic shortly before signing off on his incredible four seasons with the club by scoring twice against Nantes to take his tally for the season to 38  – the best return in the capital club's short history.
The final act in achieving his legendary status had seen Zlatan surpass a record that had stood for nearly 40 years – one that had been set by perhaps the first legend of Paris Saint-Germain.
Just eight years after the club had been founded, Argentine Carlos Bianchi hit 37 league goals in the 1977-78 season, all of which had arrived for a PSG unrecognisable from its modern incarnation.
While Zlatan's total came as the club ended the campaign with a Ligue 1-record 96 points, finishing 31 ahead of second-placed Lyon, Bianchi's record-breaking season ended with PSG slumping to an 11th-place finish.
Bianchi was a Ligue 1 phenomenon, hitting 179 goals in 220 matches.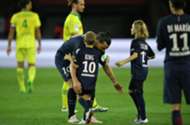 Born to a middle-class family and raised in Villa Real, in western Buenos Aires, young Carlitos would join his father in newspaper sales before becoming a professional with Velez Sarsfield.
A precocious talent from adolescence, Bianchi made his professional debut aged 18, for Velez in 1967 against Boca Juniors – the club that would later define an unrivalled coaching career.
Bianchi hit over 100 goals for the Liniers club in a six-year stay, three times ending the campaign as league's top-scorer and leading them to the Nacional title in 1968 – the club's first ever league title.
Velez remember him as "a combination of intuition, mischief, concentration and a fundamental ability to capitalise on errors by the opponents".
"He was a lethal finisher, a born scorer," say the Argentine Football Association (AFA), "that rare and valuable species that every team dreams of owning."
Stade de Reims were one of the dreamers, and made Velez an offer they couldn't refuse in 1973.
Bianchi repaid their faith with 30 goals in 33 matches in his debut season, forming the resolución of the 'Tango' Reims side of the era, with fellow Argentinians Delio Onnis, Cesar Laraignee and Santiago Santamaria.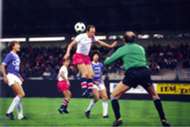 By 1977, Bianchi had been Ligue 1 top goalscorer three times, for a club that had finished 13th, 11th, 5th and 11th.
He'd achieve the feat twice more in just two seasons in Paris, leaving him standing alongside Jean-Pierre Papin as the only men to have topped the Ligue 1 scoring charts on five separate occasions.
In 1980, after a brief spell with Strasbourg, Bianchi headed home, returning to Velez, leaving a total that now has him eighth on the list of all-time Ligue 1 goalscorers.
Bianchi's spell in France would bring no silverware, however, and it would also cost him a World Cup-winner's medal as Argentina refused to pick foreign-based players for the national team (Mario Kempes the lone exception in 1978).
He scored seven goals in just 14 caps for his country, all of which arrived prior to his move to Europe. 
Bianchi never made it to a Real Madrid or AC Milan. His was a time before globalisation, before the concentration of talent that has seen the game's biggest clubs open up a chasm between themselves and the rest.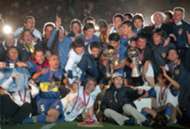 Moreover, he would then eclipse it all with a coaching career that saw him lead Velez to the club's first and only Copa Libertadores, before winning it three times with Boca Juniors to make him the most successful boss in the competition's history.
He also claimed three World Club titles, seeing off Milan with both Velez and Boca, and steering his Boca side past Zinedine Zidane, Luis Figo and the Real Madrid Galacticos in 2000.
So while Zlatan has lived a footballing life as a global superstar, most forget – or simply never even knew of to begin with – Bianchi's incredible playing career.
"They are completely different stories, his and mine," said Bianchi in 2016 as Zlatan closed in on that record. "He's a phenomenon." 
So was Bianchi, both on the field and in the dugout.