Liverpool
Four-minute man Sturridge proving crucial in Liverpool's title tilt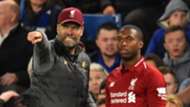 He only needed four minutes.
Four minutes to make his mark. Four minutes to silence the boos of his former supporters. Four minutes to light up a blockbuster clash in the most spectacular of manners. Four minutes to save his side's unbeaten start to the season.
What a moment for Daniel Sturridge! What a moment for Liverpool!
Having looked like taking nothing from a frantic but frustrating clash with Chelsea, they escaped with a point that keeps them rolling on, kept off the top of the table only by Manchester City and their superior goal difference. City, of course, visit Anfield next weekend.
Jurgen Klopp had spent much of this game in a state of anger, but when the time came he grabbed the dice and rolled a double-six. Sturridge, summoned from the bench to replace James Milner in the 86th minute, delivered.
What a goal it was!
Collecting a pass from Xherdan Shaqiri, he turned to find options limited in front of him. No bother, he simply drew back that gifted left foot and unfurled the most explosive of shots. Whipped but with power, it flew past Kepa Arrizabalaga, the world's most expensive goalkeeper, and into the top left-hand corner of his net.
It was Sturridge's 50th league goal for Liverpool, and his fourth of this campaign – surpassing his tally for the whole of last season. He's the club's joint top-scorer, despite starting just two of their nine games in all competitions. The dance in front of the away end had extra feeling.
Having chosen not to cash in on the England man in the summer, Klopp's faith has already been repaid. This could prove a crucial point come the end of the campaign.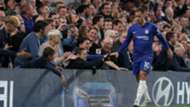 "He's in the best shape since I've known him," Klopp said afterwards. "He's a fantastic football player, and just a good lad."
It had looked for a long time as if Eden Hazard's goal, finished clinically 25 minutes in, would settle this contest and that Liverpool would be left to rue their own wastefulness.
Mohamed Salah, tentative on his return to his former club, missed a trio of openings in the first half, and both he and Roberto Firmino had efforts scrambled off the line. Shaqiri sliced horribly wide with an excellent opportunity shortly after his own introduction. 
"It's like riding a bike," Klopp said. "You don't wake up one morning and forget how to finish, or how to ride a bike. That's how it is.
"A good football team, which we are, creates chances. If we play like we did tonight we will win football matches."
Sturridge, thankfully for Klopp and for Salah and Shaqiri, had a trick up his sleeve. He was jeered upon his arrival, Chelsea fans clearly not enamoured with their former striker, but he was to have the last laugh.
Fit, sharp and scoring, he could be a key figure if Klopp's side are to keep themselves at the top of the Premier League table. Not many sides have a striker of his quality to call on as a backup. 
Liverpool weren't terrible here, working hard to limit Chelsea's space and having more than enough of the ball. Rather, that cutting edge to which we were accustomed last season was lacking. Salah looked short, Firmino was peripheral, Sadio Mane too. Still, Chelsea needed Kepa to make a marvellous one-handed stop to deny Mane after half-time. The visitors always carried a threat. 
In the end it was a draw which felt like a victory to those who had travelled down from Merseyside. Liverpool's supporters were left singing as they headed off towards Fulham Broadway, given a moment to savour by their No.15.
Chelsea may well rue their luck. Sturridge is renowned as a finisher, but not necessarily from that distance - though, as Klopp pointed out, he hit the bar with an eerily similar effort on Wednesday night at Anfield.
Maurizio Sarri's men will have felt they had done enough to ride out the Liverpool storm, and could have wrapped up the points through Hazard in the second-half. This time, Alisson was equal to the brilliant Belgian.
That proved to be a huge save in the end, the Brazilian making himself big as Hazard raced clear from N'Golo Kante's quick free-kick. It was, in fact, as decisive an intervention as Sturridge's.
Sturridge's, though, is the one which will be replayed up and down the country. We can close the book on goal of the month, surely?
Liverpool's four-minute man kept the Reds' charge on course.