KPL
FKF orders Muhoroni chairman to withdraw case filed in court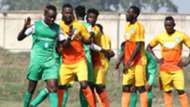 Muhoroni Youth chairman Moses Adagala has been ordered to drop a case he filed at the High Court challenging his suspension.
Adagala was suspended from attending all Kenyan Premier League matches for the next 60 days after he was found guilty of violating a section of KPL statutes for invading the pitch during a league match.
But the Muhoroni Youth boss moved to High Court to challenge the decision after his appeal to Independent Disciplinary and Appeals Committee (IDDC) was quashed.
On Wednesday, Football Kenya Federation jumped into the matter and ordered Adagala to withdraw the case within the next seven days.
"We have been notified that you have filed a case in the High Court sitting in Kisumu requesting for judicial review of the decision made by Independent Disciplinary and Appeals Committee.
"Please note that you have been prohibited from taking football matters to ordinary courts.
"You are therefore, advised to withdraw the court case that you have filed at the High Court in Kisumu subject it to judicial structures of KPL within seven days," confirmed a letter obtained by Goal to Adagala, copied to KPL CEO and FKF President.
FKF reminded Adagala that recourse to ordinary courts constitutes a serious violation of Fifa and FKF statutes.