Opinion
Title-game rematch, red-card replacements and more headline Liga MX Round 3
11:46 AM GMT+8
20/01/2017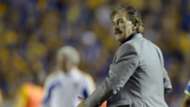 Round three of the Liga MX Clausura doesn't bring as many marquee matchups as last week did, though there's a notable one that we've highlighted as our match of the week. Other than the rematch of the Apertura final between Tigres and Club America, the games aren't quite as enticing. Any seasoned watcher of the league, or even the sport, will know that sometimes that is when things are the best. It's when surprise stars shine the brightest, when games we expected to be mundane turn out to be marvelous.
As always, we've kept an ear to the ground for both the biggest stories and smallest nuggets. Here are the Talking Points ahead of the third round of Liga MX action:
---
IT'S A BIG WEEKEND FOR ... RAFAEL BACA
---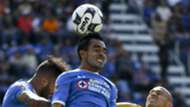 Cruz Azul is trying to be better. It has to be. This is a club that is supposed to be among the country's best, but instead can't even make the playoffs. The season started well. New coach, Spanish manager Paco Jemez, watched as his defense kept Necaxa at bay for a 1-0 opening win in the Estadio Azul. Last week, there were high hopes as his team took the bus south to face Pumas. But an early red card to Gabriel Penalba put La Maquina on the back foot for most of the game. They eventually fell 1-0 to Pumas, meaning the very early results for Jemez are mixed.
Rafael Baca, who plays in central midfield next to Penalba will have an important part to play back home at the Estadio Azul if things are going to go well this week against Monterrey. Los Rayados come in undefeated after beating Puebla and drawing with a nine-man Chivas side to open their campaign. While the game against Chivas saw Monterrey with a big numerical advantage, both matches have shown that the attack is functioning better than it did in a disappointing Apertura. Despite offseason frustration at not being transferred out of Mexico, winger Edwin Cardona has made positive contributions, and goals from Rogelio Funes Mori and Dorlan Pabon hint at the forwards in Antonio Mohamed's 4-3-3 looking more like Neptune's powerful trident than a toddler's broken tricycle in this campaign.
Former San Jose Earthquake Baca will need to help his central defenders withstand the pressure without the hulking but suspended Penalba by his side. He also may be without fellow defensive midfielder Francisco Silva, who is questionable because of an injury. In addition to breaking up Monterrey attacks, Baca must get the ball outside after he's recovered it so Cruz Azul can generate a stronger attacking presence than it did against Pumas. If he's up to the task, Cruz Azul might make it two for two in front of its home supporters. If not, those same fans will start to worry they're in for more of the same Cruz Azul they've watched flounder the past five seasons.
---
DON'T MISS ... TIGRES vs. AMERICA
---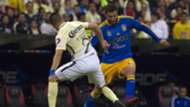 Typically when there's a rematch of the final, both teams are in good positions, continuing their winning ways. Saturday's showdown between reigning champion Tigres and Club America comes early in the season, but neither club is off to a good start.
America had one of its matches postponed after a busy December schedule but dropped a 2-1 result to Toluca in a game where the attack never really clicked. Tigres had to play both of the first two weeks and looks every bit as fatigued as America, falling to Atlas 2-0 last weekend after opening their slate with a scoreless draw against Santos Laguna.
Tigres had its best XI back on the field against Atlas but couldn't get anything going against Jose Cruz's guys from Guadalajara and are still looking for the first goal of 2017.
"I want the team to score goals in every match," attacker Damian Alvarez said in a news conference this week. "I feel like we haven't scored goals because we haven't created enough to score them or maybe we weren't finding the target well enough to score."
This weekend, they will come up against a familiar back line with Paolo Goltz and Pablo Aguilar still anchoring the center and Miguel Samudio playing out left. It's a back line they scored against once in each leg of the final they won on penalty kicks after Jesus Duenas' goal late in extra time of the second leg. Andre-Pierre Gignac has to be eager to open his account for the Clausura, and America will have to make sure the Frenchman doesn't break out and get one-on-one against goalkeeper Agustin Marchesin, signed during the winter.
The former Santos Laguna goalkeeper isn't the only new face for Las Aguilas. Paraguayan forward Cecilio Dominguez has trained with America in several sessions this week, though he also had to leave the team to get his documents straightened out. He could make his debut, wearing the No. 10 shirt vacated by Osvaldo Martinez, against Tigres. The team scored three goals without him in a midweek Copa MX win over Santos with goals coming from Osmar Mares, Darwin Quintero and Silvio Romero, so coach Ricardo La Volpe may not feel an urgency to get him on the field.
America also will look to take advantage of goalkeeper Nahuel Guzman, Tigres' hero in the shootout with several stops, missing the contest because of a foot injury suffered in training Friday.
Either way, it will have a different feel than the second leg of the final at El Volcan, with both teams needing a good result not only to get started accumulating points but also to boost morale after disappointing openings to 2017.
---
KEEP AN EYE OUT FOR ... UNEXPECTED UNDEFEATEDS 
---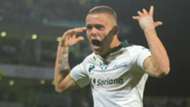 After two rounds of play, six teams are undefeated in Liga MX play. There are some usual suspects like Pachuca, Chivas and Monterrey. There's Toluca, which spent big in the offseason to improve ahead of its centennial season. Then there are Morelia and Santos Laguna, who meet Saturday at the Estadio Morelos, who came out of nowhere.
Maybe those teams belong in the 'spenders' category as well. Santos boss Jose Manuel "Chepo" de la Torre brought in a number of reinforcements after missing the playoffs in the Apertura. Goalkeeper Jonathan Orozco, defender Ventura Alvarado (who could make his league debut this weekend after fulfilling a two-match suspension to open the year), midfielder Osvaldo Martinez and forward Julio Furch all joined this winter from other Liga MX sides. But it was Uruguayan striker Jonathan Rodriguez's double that lifted the team to a 2-1 victory over Veracruz last time out. He scored six goals in the Apertura.
Morelia is just trying to stay in the first division. The team bolted out to a hot start in the Apertura as well before capitulating and missing the playoffs. Now Monarcas need all the points they can get to stay above their rivals for relegation. After topping a Tijuana team that was the top regular season team last year, Morelia played out a scoreless draw in Queretaro.
Both of these unexpected undefeateds could stay unblemished with a draw, but each are fixed on their goals for the season and will be pushing for three points. Neither will be in the title discussion at the end of the season unless something changes drastically, but the longer they continue their strong start the more likely the victor this weekend (provided there is one) will reach targets that seemed optimistic prior to the season kicking off.
---
QUOTE OF THE WEEK
---
"It's another game. Every game is different. It's not revenge, it's another chance to be better than them." - Omar Gonzalez, Pachuca defender on facing Necaxa.
Gonzalez and Pachuca head to Estadio Victoria, where last weekend Necaxa lost for the first time in league play since returning to the top division in the summer of 2016. Pachuca was the defending champion when it came up against the Rayos in the quarterfinals of the Apertura, losing in Aguascalientes before coming back to Pachuca and getting stifled by coach Alfonso Sosa's organized defense.
Judging from Pachuca's current form, Tuzos should be able to assert superiority. They're one of two teams in the league to open with a full six points and have scored five goals - though four of those came in the Jornada 1 win over Leon.