U17 World Cup
FIFA U-17 World Cup 2017: Guwahati meets with FIFA's approval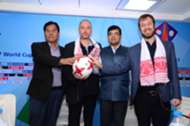 With just months remaining for the start of the FIFA U-17 World Cup, which is being hosted by India, the inspection committee set up by the international governing body has expressed their pleasure with the arrangements made at the Indira Gandhi Athletic stadium in Guwahati, which is one of the venues for the showpiece tournament. 
FIFA Head of Events Jaime Yarza seemed to be in a positive mood following the inspection and said, "The State Government is wonderful and their eagerness to be a great venue for the first FIFA tournament in the country is worth lauding. We know how passionate the supporters are in this part of the country and hence, we're very happy to see the developments and preparations here in Guwahati. We want to give the fans all over north-east India, just like at other venues, a great World Cup."
India's haunting 9-1 loss to Myanmar
He also seemed unperturbed by the quality of accommodation facilities available in the city and pointed out that several new five-star hotels coming up should solve the issue. "There are minor issues to sort out - like the development of a new hotel for teams but I believe we are well on schedule for the tournament," he asserted.
Tournament Director of the Local Organising Committee, Javier Ceppi, also chimed in with praise for the Assam Govt in expediting the development work at the stadium. "The State Government of Assam has really taken the leadership when it comes to making the World Cup a huge effort in their State. We are already working on all operational and promotional matters to make sure that all the people of Assam and of the neighbouring north-eastern states can enjoy World Cup matches in the north-east," he exclaimed. 
"The development in the stadium is very satisfactory and we are sure that the FIFA U-17 World Cup will do justice to the vision of Hon. CM Sarbananda Sonowal of making Guwahati the sports capital of India," he added. 
Interestingly, the inspection team had slammed the preparations at Kochi on Friday, when they had revealed that the South Indian venue has been given a deadline of May 15th to speed up the preparations. When broached regarding this, Jaime Yarza revealed that FIFA has a plan B in case the work at Kochi does not progress according to plan but refrained from disclosing what it was. 
More importantly, FIFA's inspection committee has expressed satisfaction with yet another venue, which will be a shot in the arm for organisers of the showpiece tournaments. The committee will finish their inspection at Kolkata on Monday.