World Cup
Fifa agrees to pay R5 million to Safa for Bafana Bafana-Senegal match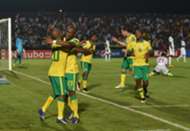 Safa CEO Dennis Mumble confirmed that Fifa will fit the bill they had to fork out for the match held last year which was found to have been manipulated by banned referee Joseph Lamptey.
"They (Fifa) have confirmed to us that they will pick up the tab of that match that was played on November 12' 2016. They realise that we were not at fault and these are wasted costs for us. Fifa have confirmed that they will pay," Mumble told The Sowetan.
Bafana Bafana were expected to play an international friendly match (Nelson Mandela Challenge) in November, 2017.
Safa have since requested Fifa to fit part of the bill that would have been used to create funds for the Nelson Mandela's Children's Fund which they would have done through staging the annual fixture.
"So we want Fifa to make that donation to the Nelson Mandela Children's Fund because we would have raised that money for the Nelson Mandela Children's Fund on that date which is now taken up by the Fifa fixture," he said.
"We will ask Fifa to please take into consideration the fact that we make a substantial contribution to the Nelson Mandela Children's Fund every year and they have a hospital standing up that needs operating costs to be raised," Mumble concluded.
Meanwhile, the PSL on Thursday confirmed that the 2017 MTN8 Cup final between SuperSport United and Cape Town City will be played at the Moses Mabhida Stadium on October 14.