NPFL
FC Ifeanyiubah accept LMC verdict, plead for leniency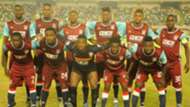 FC Ifeanyiubah have accepted the verdict of the League Management Company (LMC) on the punishment meted out to the Anambra Warriors after the incident in Lokoja against Niger Tornadoes and have expressed their readiness to play the fines stipulated by the league organizers but they have appealed to the league body to reduce the length of the sanctions placed on some of their players.
Some of the Anambra Warriors' players took the laws into their hands in the aftermath of their 1-2 away loss to Tornadoes in Lokoja and they have been placed on suspension from the league matches ranging from 12 to 19 games ban but FC Ifeanyiubah's Media Officer, Iyke Nwokedi noted that the management of the team is imploring the LMC to review the video of the incident again towards exonerating those that didn't partake in the assault on the match official after the home side were awarded a second penalty kick of the game.
Nwokedi disclosed that FC Ifeanyiubah showed their displeasure at their players' poor attitude towards the match official but however noted that the LMC must also investigate the activities of the match officials for the game as this will ensure a balanced verdict.
"I want to state that on behalf of the management of FC Ifeanyiubah we have accepted the verdict of the LMC regarding the sanctions placed on us and our players in our match with Niger Tornadoes. We want to however beckon on the LMC for leniency and also to ask for a review of the video so that the erring players are the ones sanctioned and not those innocent," Nwokedi told Goal.
"We have learnt a great deal from this incident and we shall continue to comport our players and retrain them on what they must do always while on the pitch. We also want to appeal to the LMC to shorten the ban placed on the players for the sake of their career.
"We will continue to remain law abiding and always play according to the rules."
FC Ifeanyiubah are eighth on the league standings with 53 points from 38 games.