Wayne Rooney
Fans mock Rooney's Everton return
10:31 PM GMT+8
09/07/2017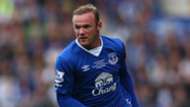 So, it's official, Wayne Rooney is back at Everton.
The Toffees announced the news on Sunday with a slick teaser video on Twitter, accompanied by the words: "Once a Blue... #WelcomeHomeWayne."
And the football world has been reacting to the news, with some less than complementary offerings on social media from various rival supporters!
July 9, 2017
HE IS FINISHED BOUGHT FOR SHIRT SALES

— Jiroud (@Girouddy) July 9, 2017
July 9, 2017
I will always remember Rooney as a cheating little rat. Ended the streak from this dive. pic.twitter.com/EGpLLO5ZtH

— Connor (@TikiTakaConnor) July 9, 2017
July 9, 2017
Artist's interpretation of Rooney's medical. pic.twitter.com/lR23pqFdTV

— Karl Johnson (@Lallanimaniacs) July 9, 2017
— ㅤㅤㅤ (@ForzaLiverpooI) July 9, 2017
There were, however, those that wanted to pay tribute to Rooney and his career, with plenty of Everton fans looking forward to seeing him play for their club once again...
One day I will be able to tell my grandkids I played with you. All the best and thank you @WayneRooney #FarewellToALegend pic.twitter.com/QZS6OhDTcP

— Ander Herrera (@AnderHerrera) July 9, 2017
All the best @WayneRooney and congratulations on a great United career . The best Striker I played with and saw at the club.

— Gary Neville (@GNev2) July 9, 2017
July 9, 2017
253 - Wayne Rooney departs Manchester United as the club's all-time record goalscorer, with 253 goals in all competitions. Emotional. pic.twitter.com/maF54h0ssm

— OptaJoe (@OptaJoe) July 9, 2017
Damn, bummer

— Chrissy Costanza (@ChrissyCostanza) July 9, 2017
| Once a Blue... #WelcomeHomeWayne pic.twitter.com/PAkv1qeBsY

— Everton (@Everton) July 9, 2017
Welcome home brother @WayneRooney https://t.co/DhmAtIfP10

— TIM CAHILL (@Tim_Cahill) July 9, 2017
Everton & United fans thinking about a Wayne Rooney winner at Anfield next season: pic.twitter.com/SLGSMQjQye

— Footy Accumulators (@FootyAccums) July 9, 2017
Rooney's last act as United captain! #mufc pic.twitter.com/rzfWrrPN7p

— Full Time DEVILS (@FullTimeDEVILS) July 9, 2017
Legend, we thank you @WayneRooney

— #GSAP (@Stormzy1) July 9, 2017
The times right for Rooney to move on but that hurts seeing him in that blue kit.

— James Stretford (@Jamesstretford) July 9, 2017
I will miss you so much! Thank you for the memories Wazza! In our hearts forever

— Hêlîn (@MUnitedGirl) July 9, 2017