Fandi Ahmad
Fandi Ahmad: "Singapore will attack Indonesia"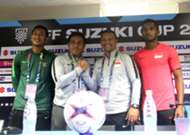 Indonesia will represent Fandi Ahmad's first competitive test as Singapore take on Indonesia today in their opening match of the AFF Suzuki Cup.
For Fandi the AFF Championships represent his maiden assignment with the national team since being appointed as interim coach of the Lions in May.
"I am proud to be Singaporean and proud to be given a chance," the 56-year-old said at the pre-match press conference on Thursday evening at the National Stadium. "I am looking forward to it because it's everybody's dream, especially after a playing career to take charge of their national team."
It is no secret that Indonesia has grown over the years and many have tipped them to come out victorious in the highly anticipated clash which Fandi is fully aware of.
"Indonesia is a very strong team lately, they've been doing very well, they have very, very fast players," Fandi said. "They are different from previous years I've seen, they are very dangerous on the break. They are technically very strong, they are mobile, the one-two touches and movement (are good)."
But then again it doesn't Singapore will be defensive according to Fandi and will promise that his Singapore side will attack without ignoring their defensive duties.
Indonesia are no doubt confident of their chances and their coach Bima Sakti seems to echo this, especially after how he mentioned a few days back how he had beaten Fandi in the semi-final of the 1997SEA Games, when the two were players for their respective nations.
"It doesn't matter to me what he (Bima) said as these type of things get often said in football," mentioned Fandi.
"I remembered that game in 97 where I scored a header and we silenced the Indonesians although unfortunately we lost,"
"At the end of the day though Bima is still a good friend of mine."
Alongside Fandi was Hariss Harun who will be captaining the Lions for the first time, and wants the team to have the right state of mind.
"The boys are eager to go out and show what they can do. We have to remember we are playing at home the boys have to trust each other and believe in themselves."
"I think it's more important on the psychological side; physically we've been preparing well over the course of the last two months (but) in these high-stakes game it's important to be ready mentally."
"I think the boys are setting up very well and we hope to do well tomorrow."