Spain
Fabregas: Germany & Italy copied Spain in search for success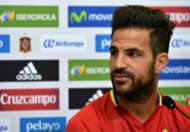 Cesc Fabregas has claimed Spain 's rivals at Euro 2016 have copied the holders' style in the search for success.
La Roja head into their opener against against Czech Republic at the Stadium Municipal in Toulouse among the favourites to lift the crown on July 10, having won the previous two tournaments.
Fabregas feels Spain's short passing and possession-based approach has been emulated by the likes of world champions Germany and new Chelsea manager Antonio Conte's Italy.
"I have no doubt about it [Spain's influence]." Fabregas told Goal at a Q&A during Puma's #choosetricks boot launch in London.
"Since 2006-08 when we started playing this kind of football, I don't remember seeing so many teams trying to play or trying to adapt their system to what we were used to do.
"If you play the same way and you don't win no one will copy you, but if you win and you have success then you will see people trying to copy your tactics or the way you are playing. Of course there was Germany or even Italy under Conte."
The Azzurri boss is charged with getting Chelsea back to the top of English football after a disastrous season saw the club record a worst ever defence of a Premier League title, with Fabregas previously telling Goal that he forgot how to play football . 
Fabregas is aiming to return to Stamford Bridge with another European Championships winners' medal, but dismissed Spain's pre-tournament favourites tag.
"We don't really mind if we are favourites or not, at the end of the day the best team will be the ones who have the fittest players that get there in the best moment of the season," he said.
"Sometimes you have a fantastic team but, for whatever reason, you get there and you are a little bit more tired or you have lost with your club and you are a little bit down. For so many reasons things could change from good to bad in one second. 
"You just have to go there with the hunger and passion we have been playing with since 2006. From there we will try to do our best and make sure we give the country something to be proud of.
"In 2008, we were going there like we didn't even exist. No one believed in us and we won. We were by far the best team. It will be a tough Euros, I don't know who is going to win but we will try to be there until the end."