African All Stars
EXTRA TIME: Why Obafemi Martins and music artiste Wizkid are kings of Lagos parties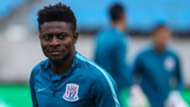 Obafemi Martins caught up with music star Wizkid, this time around at Oniru private beach in Lagos where they both partied.
The Shanghai Shenhua talisman who is enjoying his vacation in Nigeria, has never hidden the fact that he is a huge supporter of one of the most celebrated entertainment stars in Africa.
Aside his social life, Martins has been incredibly hot in front of goals with seven efforts in 13 league appearances in the Chinese top-flight last season and has been tipped for a chance in Nigeria's 2018 World Cup campaign.
With their recent activities, the duo are arguably the kings of Lagos nightlife.