COSAFA Women's Cup
EXTRA TIME: How Twitter reacted to Banyana retaining the Cosafa Cup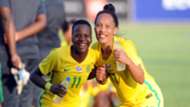 Refiloe Jane scored both goals at the Wolfson Stadium in Nelson Mandela Bay on Saturday.
As a result Banyana Banyana lifted their fifth title in six tournaments and this will prepare them for the African Women's Championship in Ghana in November.
South Africa scored 13 goals in the tournament and conceded just two – against Madagascar and Cameroon.
Here's how the country celebrated Banyana's triumph on Twitter.
10 min to kick off #SAvsCAM who will triumph at the end of the match @Banyana_Banyana @SAFA_net @SasolLeague @COSAFAMEDIA pic.twitter.com/TuJgyaUvPr

— Banyana_Banyana (@Banyana_Banyana) September 22, 2018
42' @Banyana_Banyana 🇿🇦 1-0* Cameroon 🇨🇲 , what a goal from Fifi!!! @fifinhojane #COSAFAWOMENCHAMPIONSHIP2018

— Velile Mbuli (@Veli_Mbuli) September 22, 2018
Congratulations to coach @descaptain and the whole @Banyana_Banyana team on winning the #CosafaWomen2018 cup 

— Keagan dolly (@dolly_keagan07) September 22, 2018
Congratulations @Banyana_Banyana OUR PRIDE!!! 

— Carol Tshabalala (@SimplyCarol8) September 22, 2018
Well done @Banyana_Banyana #COSAFAWomenschampionship2018 champs!  pic.twitter.com/x3eZdWIOQJ

— Lonwabo Lobz Marele (@LobzMarele) September 22, 2018
Well done girls! Banyana Banyana!! Cosafa Champions!! We are truly proud of you girls!!

— Mongameli Bobani (@MongameliB) September 22, 2018
I think Banyana Banyana being the only thing right about South Africa for the last decade is a clear sign that it's time we let women handle everything around here. pic.twitter.com/ee2OxKm4zE

— Jesse Swiswi (@JayFromVenda) September 22, 2018
Two brilliant goals by Jane were enough to see @Banyana_Banyana home @SAFA_net

— Banyana_Banyana (@Banyana_Banyana) September 22, 2018
Many congratulations to the champions of Cosafa, Well done Banyana Banyana. pic.twitter.com/TpEJzcCItc

— Thabo Senong (@ThaboSenong) September 22, 2018
Full time score
🇿🇦have successfully defended their cup
🇨🇲1⃣2⃣🇿🇦#COSAFAWomenschampionship2018 ,@CAF_Online ,@fifamedia ,@Banyana_Banyana ,@FecafootOfficie ,@PortElizabeth ,#WOLFSONSTADIUM

— COSAFA (@COSAFAMEDIA) September 22, 2018
Cameroon 1-2 South Africa: Banyana Banyana successfully defend Cosafa Cup title https://t.co/rbvsv5oLG4 pic.twitter.com/bJ9Mg0r5Df

— Goal South Africa (@GoalcomSA) September 22, 2018
Victory once again for @Banyana_Banyana as they win #Cosafawomenschampionship for the 2nd time in a row! Tough final with an equally competitive opponent but the team pulled through with two goals by vice-captain @fifinhojane. Well done to @descaptain and the team! pic.twitter.com/fb7a1amU5K

— Official SasolLeague (@SasolLeague) September 22, 2018