World Cup
EXTRA TIME: Football fans on Morocco, Egypt and Iran playing on Eid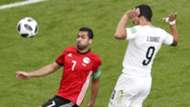 As you can see there are many soccer fans who celebrated Eid with watching the World Cup, but others found this strange on a religious day.
Even more strange is that the majority of the teams who played in that time window were Muslim based nations. That included Morocco, Iran and Egypt, while Saudi Arabia finished the opening game against Russia about two hours before Eid began.
All four of these nations would be struggling to cope with their energy levels toward the end of games, and three of them conceded late. Egypt lost against Uruguay in the last minute, while Morocco scored an own goal late in injury time.
The teams can't complain now because they've been aware of this schedule for months. Should Fifa show more respect for Islamic religious days when creating the draw?
Just a thought. VERY dicky of the @FIFAWorldCup and @fifa federation to schedule Egypt, Iran and Morocco all to play today on the Eid El Fath holiday.

— Yos (@y0ssss) June 15, 2018
I understand it.
But I feel bad for these people who are fasting and have to play in the world cup.
I can't even wash dishes if I don't eat some food first. Let alone run around for 90 minutes.

— NebraskanGooner (@nebraskangooner) June 14, 2018
Muslim football team Saudi Arabia lose 5 -0 against Russia in the starting match of World Cup , noting that it will be the only team who played while fasting Ramadan as the game were in the last day of Ramadan.#FIFAWorldCup #FifaWorldCup2018 pic.twitter.com/lxIzaCyy6q

— Yasir Khan (@Iamyasirkhaan) June 15, 2018
Conspiracy that they crammed in all the teams that would be fasting before Eid finished  #WorldCup

— ᒪ3ahpar (@l3ahpar) June 15, 2018
Strange immediately after month of Ramadan, 4 Muslim teams are playing #WorldCup matches on Eid Day. You'd think this was a random pot draw, but I don't think any top team would be asked to play on Christmas Day, especially after a long period of fasting. #EGY #MAR #IRN #Saudi

— Ignat Football (@IgnatFootball) June 15, 2018
People don't realize a lot of players coming into this World Cup are at the end of fasting for Ramadan... how do you perform at the top levels like that
 

— [x] (@giraldo6) June 15, 2018
Are the Egyptians still fasting? They can't even spot their own players! #ramadaneffect #WorldCup #Ramadan

— Adnan Ali (@Mashqulgi) June 15, 2018
Will fasting affect the players condition during the World Cup, ie that players eat pasta for energy hours before games etc?

—  Ŵęśtŷ (@Westyafcm) June 15, 2018
Some light hearted Eid humour!

Egypt's first game of the 2018 World Cup is literally during Eid prayer and so we actually have to choose between Mo Salah or more Salah

 

— Hadith of the Day (@Hadithoftheday) June 14, 2018