PSL
EXTRA TIME: Cape Town City's hope to defeat Day Zero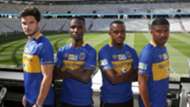 Cape Town City has another battle on their hands, and this is not at the top of the PSL, it's #DefeatDayZero.
This battle is to save water and City's leading by example to educate their fans to do so. This would help avoid Day Zero, when the city of Cape Town's taps could be switched off in April.
The club posted this photo of their team building rest at the Blue Rock dam in Somerset West. Many fans are wondering if it's a fake photograph, due to the amount of water beside the players.
It is a real photograph, but fans need to realise that an enormous amount of water is required for Cape Town and surrounding areas to live on. Everyone needs to reduce their water usage for Cape Town to have a chance to defeat Day Zero.
The man responsible for this real photograph is City's player, Roland Putsche, who's also boasting about the quality of the pic.
Haters will say it's photoshop #DefeatDayZero pic.twitter.com/HY3B5dfV18

— Cape Town City FC (@CapeTownCityFC) January 30, 2018
Blue Rock dam member

— Cape Town City FC (@CapeTownCityFC) January 31, 2018
January 31, 2018
Haha it's just a proper phone @rolipu

— Roland Putsche (@rolipu) January 30, 2018
Hahaha pic.twitter.com/2LrJwjXmTA

— Zwelihle (@Mlaba231) January 31, 2018