South Africa
EXTRA TIME: Banyana Banyana shows off World Cup kit
11:21 PM GMT+8
13/03/2019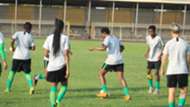 Excitement is building for South Africa's introduction to the ladies World Cup.
Banyana Banyana's disappointing showing in the Cyprus Cup is not going to spoil their preparations for France 2019.
It's already an amazing achievement for South Africa's national women's team to have qualified for the World Cup, they've earned their right to participate against the world's best teams and it's going to soon be time to enjoy themselves in France.
Of course, Banyana Banyana are not going to France as contenders and this is all about gaining experience for the future.
There will be many highlights along the way, and building up momentum before the tournament kicks off, one can now see the release of the official team kits.
What do you think of South Africa's design in the traditional green and gold colours?
The main reason why We all converged at the Nike Womens Summit..! The 2019 World Cup National Team Jerseys have been revealed. @Banyana_Banyana dawning the traditional Green and Gold with a new fitting cut for her freedom,movement, comfort, confidenceandZero distraction. Thoughts pic.twitter.com/Uy9zyYWe6s

— Amanda toki Dlamini (@Amanda_Dlamini9) March 12, 2019
SA at the Nike Women's Summit in Paris. 2019 Women's World Cup National Team Jerseys were revealed & @Banyana_Banyana will wear traditional Green & Gold with a new fitting cut for freedom, comfort & confidence #nikewomen #nikefootball @SAFA_net @Janinevanwyk5 @Kgatlanathe1st pic.twitter.com/zDYOsnY5Nf

— Banyana_Banyana (@Banyana_Banyana) March 13, 2019
Nike gathers more than 40 of the world's top female athletes in Paris to unveil 14 National Team Collections for the football tournament in France in June & highlight new partnerships to champion women in sport. #nikewomen #nikefootball @Banyana_Banyana @SAFA_net @nikefootballza pic.twitter.com/KdkPOPCPu8

— Banyana_Banyana (@Banyana_Banyana) March 13, 2019