MLS
Ex-D.C. United goalkeeper Horton files lawsuit alleging Espindola elbow ended his career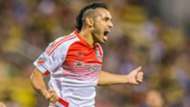 Former D.C. United goalkeeper Charlie Horton filed a lawsuit Monday alleging his career was ended by an off-the-field attack from then-teammate Fabian Espindola.
Court dismisses lawsuit involving Dempsey
The onetime U.S. Under-23 international left United after the club declined his option at the end of 2016, and the complaint says the 22-year-old then retired from professional soccer because of post-concussion symptoms stemming from the incident. Horton is seeking compensatory and punitive damages.
Filed in D.C. Superior Court, the complaint names Espindola, United coach Ben Olsen, the club and MLS as defendants. A United representative declined to comment on the matter Thursday.
United parted ways with Espindola in July, trading the forward to the Vancouver Whitecaps before he promptly left MLS to sign with Mexican club Necaxa.
The complaint says Espindola confronted Horton after a video session last March about an on-the-field issue from two weeks earlier. According to the document, Horton said he didn't want to argue and turned away before Espindola struck the goalkeeper in the temple, leading teammates and staff to intervene.
Horton "immediately began experiencing dizziness, shakiness, visual disturbances, nausea, sensitivity to light and sound, and other symptoms associated with a concussion" but still took part in training, the complaint says, noting he wasn't diagnosed with a concussion until the next day.
The goalkeeper was cleared to play in May. Horton never saw the field for United but did play eight matches for the club's USL affiliate, the Richmond Kickers, before being sidelined by a finger injury.
According to the complaint, Horton's decision to retire earlier this year was "due to the severity of his ongoing post-concussive neurological symptoms."
The counts against Espindola are assault, battery and intentional infliction of emotional distress, while the count against Olsen and United is negligent supervision. MLS has been accused of negligent hiring and retention regarding Espindola.