David Alaba
Euro 2016 Team Guide: Koller leads Austria back to the big time
11:54 PM GMT+8
04/06/2016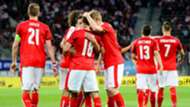 Coach:  Marcel Koller
Key player:  David Alaba
Qualifying form:  W9, L0, D1
Top scorers in qualifying:  Marc Janko (7), David Alaba (4), Marko Arnautovic, Martin Harnik (both 3)
Austria's qualifying campaign saw them scale unprecedented heights for a nation whose only previous appearance at a European Championship came when they were joint hosts.
That adventure, in 2008, came to an end after a winless group stage and there was further disappointment when their bid to reach the next edition of the tournament failed amid a campaign that involved an ignominious goalless draw with Kazakhstan.
Marcel Koller took the helm after that match and though he too oversaw a 0-0 draw against Kazakhstan in a fruitless 2014 World Cup qualifying phase, the former Switzerland midfielder has since ushered in a new era.
After being held in their Group G opener by Sweden, Austria won nine games in a row - a record bettered only by England.
Their resolute defence - including Christian Fuchs of Premier League champions Leicester City - kept six clean sheets, with second-placed Russia failing to find a way past goalkeeper Robert Almer in both Vienna and Moscow.
But it was going forward that Austria - whose superb run of form saw them at one stage climb into the top 10 of the Fifa world rankings - truly excited, with Marc Janko and David Alaba particularly impressive.
Janko's return of seven goals put the Basel striker in the esteemed company of the likes of Wayne Rooney and Gareth Bale in the qualifying scoring charts, with the 32-year-old now seeking to translate that form onto the big stage.
He will spearhead a side that, while perhaps short on headline acts, is not without its household names.
Chief among those is Alaba, a five-time Bundesliga winner with Bayern Munich and true superstar of Austrian football who also helped the Bavarians claim Champions League glory in 2013.
Alaba's all-round quality on and off the ball affords him immense versatility and Manchester City-bound coach Pep Guardiola has utilised his talents in a variety of roles, going so far as to describe the 23-year-old as Bayern's "God".
It is in midfield that he has made his mark for Austria, contributing four goals in qualifying, having weighed in with six during their unsuccessful attempt to reach the World Cup in Brazil.
Indeed, competitive matches seem to bring the best out of Alaba, with 10 of his 11 goals for the national team having come in such games.
And if Alaba's team-mates are any less accomplished in the heat of battle, the sometimes laidback approach of coach Koller may help to ease their nerves.
The 55-year-old - who signed a two-year extension to his contract prior to the tournament - showed his humorous side in the wake of his side's 4-1 win over Sweden in September, which clinched their spot in France. Koller paid tribute to the tournament hosts by turning up to the post-match media conference wearing a beret and eating a baguette.
He will hope to be able to display a similarly cheerful demeanour when the action comes to an end in an intriguing looking Group F, in which Austria will face Hungary, Portugal and Iceland.