Lionel Messi
Valverde deflects Argentina request to rest Messi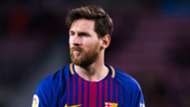 Ernesto Valverde deflected Argentina's request to rest Lionel Messi more in order to preserve him for the World Cup, simply insisting the Barcelona star wants to win everything for his club and country.
Argentine Football Association (AFA) president Claudio Tapia is eager for Messi to play less so he remains as fresh as possible when leading his nation at the World Cup.
Tapia spoke to Argentine media on Tuesday, saying he had conversed with Barca over the prospect of "taking care" of Messi and playing him in fewer matches.
But Valverde refused to publicly reveal any such plans when asked in his pre-match news conference ahead of Saturday's trip to Eibar, dodging the question by saluting the forward's ambition.
"I absolutely trust everybody, especially Messi, who is our player," Valverde told reporters.
"I know that Leo's ambition is to win everything with Barca and the national team. We want him in the best form for us and Argentina."
Recent reports have claimed Andres Iniesta has received a lucrative offer from a Chinese Super League club, and while he accepts he will have to think about the situation if those rumours prove to be true, Valverde does not think there is any need to worry about the CSL's financial power.
"If that happens then we'll think about it, but I've nothing to say because I've not even been thinking of it," Valverde said.
"I can't comment on every story in the newspapers. Iniesta is with us and will train with us later. We want him to stay, play a lot more games and score lots more goals.
"At the moment it [receiving an offer from a CSL club] has only happed with [Javier] Mascherano. I don't want to start thinking about these things before they happen.
"This situation with Mascherano has happened and is over. Now we don't need – or have the time – to worry about these things."
Valverde also confirmed Gerard Pique is likely to feature once again after being rested during the 0-0 draw with Getafe last time out, but Thomas Vermaelen remains a doubt.
"I'll wait for the training session [later on Friday]," he said. "With regards to Pique, he was available last week, so I imagine he'll be available again.
"I don't know about Vermaelen. We will see tomorrow [Saturday]. I don't want to risk him."