Goal United
A new Turkish delight: Dortmund wonderkid Emre Mor could break out at Euro 2016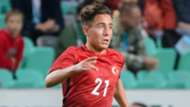 ---

COMMENT
---
It was a week like no other for young Emre Mor. First, he was the surprise inclusion in Turkey's 23-man squad for Euro 2016 when many in his homeland had barely heard of him. Then he completed a stunning €16 million transfer to Borussia Dortmund from Nordsjaelland in Denmark.
The 18-year-old was applauded off the pitch in Antalya following his 45-minute international debut against Montenegro at the end of May. He was clapped onto a pre-Euro 2016 training pitch when joining the session 20 minutes late after signing for Dortmund this week as the German club's second teenage signing of the summer, following the acquisition of hotshot Ousmane Dembele from Stade Rennais.
Emre played just 13 times – scoring twice for Nordsjaelland – but that was enough to convince the Dortmund hierarchy to spend big on his signature.
Fatih Terim, the Turkey coach, has had Emre in his sights for longer than that. The veteran trainer put in a lot of work behind the scenes and deserves all the credit for getting him into a Turkey shirt. The deal was even closed in a Danish prison, where Emre's father – Ersoy - is serving a short sentence for injuries caused as an uninsured driver.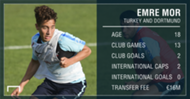 "After watching his videos I said he is not an ordinary player, he is an extraordinary player," Terim told the press. "I think that we made a good decision by calling him up. I insist on saying that he has to learn many things and physically he has to improve.
"He has the capability of becoming a special footballer. He made the decision to move to Borussia Dortmund and I think he made a good choice."
Born and raised in Denmark, Emre barely speaks a word of Turkish, although he is said to be learning intensively. He spoke English pitch-side for his first interview on Turkish television, which came after being called into the Under-21 set-up for a 5-0 defeat to Slovakia in March.
"Turkey is the country I love," he said. "That's why I have chosen Turkey. When I was home, I had to take some lessons to learn Turkish more. And I think when I'm in Turkey I will learn it more and more every time. I think it will come, slowly."
He has been fast-tracked into the seniors following that whirlwind appearance and Denmark are left to regret having a once-in-a-generation talent slip through their fingers. Emre turned out for Danish youth teams and even acquired Danish citizenship in September 2015 but instead will be at the European Championship with Terim's men.
Born to a Turkish father and Macedonian mother, Emre has recently pledged allegiance to Turkey with a series of Instagram posts outlining his love for his country. Turkish fans demand a national pride in their team's players – even more so from the European-born ones like Emre and Hakan Calhanoglu.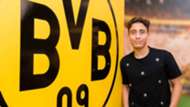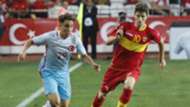 Raised through the Bronshoj and Lyngby systems, Emre made his Nordsjaelland debut in November 2015. It doesn't take long for word to get around in football. By the time Dortmund clinched his signature, it was being reported that Juventus, Liverpool and Bayern Munich had all shown interest. Saint-Etienne passed up the opportunity to sign Emre in 2013 having deemed him not good enough following a trial.
There are, of course, still flaws in his game - particularly when it comes to defensive work and fitness - but there is no doubt a real talent will emerge. Turks are convinced they've got a squat, left-footed attacking dribbler to match even the great Lionel Messi while Nordsjaelland coach Kasper Hjulmand described him as an extraordinary player. Despite being compared to the Barcelona star, it has been reported that his mother let slip that he wants to play for Real Madrid.
He will probably not start against Croatia – Volkan Sen will play instead – but Terim has a wildcard he can turn to around the 60-minute mark if things aren't going his way.
By then, the whole world will be in on the secret.