US Open Cup
Dynamo win first U.S. Open Cup title to cap an otherwise forgettable season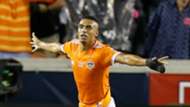 The Houston Dynamo and Philadelphia Union did not resemble the teams we have grown accustomed to seeing this MLS season when they faced off in Wednesday night's U.S. Open Cup final.
That was bad news for the Union, and very good news for the Dynamo.
The Dynamo secured a 3-0 Open Cup final victory that earned them a trophy to help ease the pain of an otherwise forgettable season. They rode the same formula that took them to the 2017 MLS Western Conference finals - solid defending and clinical finishing - two things that didn't always come through for them during this MLS season.
The Union are in the midst of a breakout MLS campaign, maturing into the best edition of the team we have ever seen. But that version of the Union didn't show up at BBVA Compass Stadium. Instead, we saw the familiar sight of a Union side that made mistakes and failed to generate quality chances in a final, which ultimately doomed them to their third U.S. Open Cup final loss in five years.
The Union had every reason to believe this was their time to deliver the club's first trophy. Fresh off consecutive league wins against two strong opponents in Seattle and Sporting Kansas City, the Union arrived in Houston with confidence and belief that this year's final would be different than their two previous visits.
Unfortunately for them, that confidence took a hit just four minutes into the match when an Alberth Elis cross found Mauro Manotas wide open in front of goal for the opener. It was the kind of defensive lapse the Union had committed less of in recent months as their young defense matured.
As rough a start as it was, the Union appeared to shake it off and responded well, controlling possession against a Dynamo side that always did seem content to sit back and look for chances on the counter. The Union couldn't turn that possession into quality chances though, and before any real chance to respond came they gave up another goal, with Manotas running through their defense and unleashing a left-footed shot past Andre Blake.
The Union never recovered, looking stunned for much of the second half, and even when their attack began showing signs of life they squandered the good chances they were able to create. It was a scene long-time Union fans were all too familiar with, only not as much this year. By the time talented young defender Auston Trusty put the ball into his own net on the attempted clearance of a Blake save, Union fans were left with the bitter reality that their wait for a trophy was going to continue.
As crushing as Wednesday's loss was, it doesn't change the fact the Union are in the midst of a defining season and head coach Jim Curtin's job now will be to help his team shake off the stench of Wednesday's loss in a hurry. There are big games ahead for a team trying to make the playoffs for the first time since 2016, and just the third time in team history.
They travel to Columbus on Saturday with a chance to not only set a new team record for points in a season, but also a chance to leapfrog the Crew into fourth place in the Eastern Conference. That would not only push them to the brink of a playoff berth, it would put them in position to host their first playoff game since 2011.
While the Union have the rest of the MLS season to look forward to, the Dynamo will want to bask in their first U.S. Open Cup title victory for a while.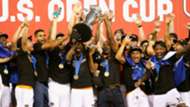 Their MLS season is all but over. They aren't yet eliminated from the playoffs, but they are 12 points back with only 15 total points left to play for, meaning they're a miracle away from the postseason. It wasn't supposed to be that kind of season, not after such a promising 2017. This is, after all, the same Dynamo team that began this season handing Atlanta United a 4-0 whipping. Those days are long gone though, buried by a 10-match winless slide during the summer that doomed Wilmer Cabrera's men to wonder what might have been if injuries and late-game collapses hadn't cost them so many results.
Wednesday's triumph not only gave the Dynamo and their fans a much-needed taste of joy, it provided a reminder of what the team could do under Cabrera, and should raise questions about what team ownership is going to do this winter. The Dynamo are notorious for being one of the cheapest teams in the league, and that thriftiness hasn't helped them fill BBVA Compass Stadium, which is too often struggling to fill seats even with exciting attacking talents like Elis and Open Cup final hero Manotas.
Maybe Wednesday's cup final triumph can convince ownership that investing more on players this winter is worth it. There is talent on the team to build around, but expecting the Dynamo to compete consistently in a league where spending is increasing every year just isn't realistic.
Cabrera and the Dynamo deserve credit for winning a trophy in spite of that limited spending, but Wednesday's title should serve as impetus for owners to invest more so that there can be more championship nights in Houston, and fewer seasons requiring an Open Cup title as a consolation prize.