Transfers
Diego Costa will ask Chelsea for transfer request, confirms lawyer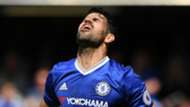 Chelsea striker Diego Costa will put in a formal transfer request in an effort to force a summer move, according to his lawyer.
The Spain international, 28, has been looking for a way out of Stamford Bridge since the end of last season after Antonio Conte sent him a text telling him he is no longer wanted, despite his 20 goals in 35 Premier League games.
Bet on Chelsea's top goalscorer in 2017-18
Atletico Madrid are the favourites to sign Costa, but their transfer ban means he will be unable to feature until January 2018, while Chelsea have already signed his replacement in Alvaro Morata.
His lawyer, Ricardo Cardoso, is outraged by the way Conte and the club have treated the ex-Atletico star and wants his future settled.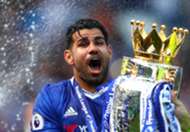 "We are going to use all possible legal mechanisms to hold Chelsea responsible for their behaviour, making possible the departure of Diego Costa," Ricardo Cardoso, Costa's lawyer, told EFE.
"He will formally request the transfer."
"When he was with the Spanish national team in June, he was dismissed from Chelsea by Antonio Conte through a text message... The way in which it was carried out and the fact that it came out in public shows unfair behaviour and a lack of respect for the player and it is inadmissible and inexcusable on Antonio Conte's part.
"Not only have Chelsea not intervened or denied it either in public or in private, but they have renewed Conte's contract, demonstrating they agree with the dismissal of Diego Costa and the way in which it was processed.
La Liga rejects €222m Neymar payment
"This discriminatory behaviour makes it impossible for Diego Costa to return to Chelsea while Antonio Conte is the coach, there is no condition for him to continue playing at Chelsea, which has already been passed on to those responsible several times.
"At the moment moment, he does not want to play for a club other than Atletico Madrid."
Costa has scored 52 goals in 89 Premier League appearances for Chelsea in the three years since joining from Atletico.