Chelsea
Diego Costa - The China signing that would scare the life out of Europe's elites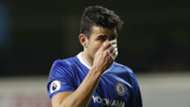 ---
COMMENT
---
If there has been a bid from China for Diego Costa, then Antonio Conte claims he knows nothing about it. "The club didn't inform me about this," the Chelsea coach said. "For this reason it can be only speculation."
Conte wins battle with Costa on and off the pitch
Costa did not play against Leicester City on Saturday evening; it was left to Eden Hazard to lead the line in the 3-0 victory against the beleaguered champions, who set up Marcos Alonso for the opener. Talk that Costa had had his head turned by the lure of Chinese cash was dismissed by Conte, who instead claimed it was a back complaint which kept Costa from featuring. 
"If you want to know the truth, I'm ready to tell the truth," Conte said. "It's this. On Tuesday, during the training session, Diego stopped because he felt a pain in his back. From that moment he didn't train during the week. For this reason today he wasn't available for the starting XI, for the bench or to come with the squad."
Despite that declaration from the coach, there is a sense that all is not well with Chelsea and their 14-goal top scorer. There is a sense that the market conditions laid down by clubs like Chelsea are catching up with them.
Reports that Fabio Cannavaro-coached Tianjin Quanjian have offered a contract worth £30m per year to Diego Costa is bound to have left Chelsea fans feeling somewhat similar to what fans of other clubs thought about Chelsea 14 years ago when Roman Abramovich first began throwing the money accumulated through the taking of Russia's natural resources at the transfer market.
Who are these people? What can they offer aside from money?
"You ain't got no history," opposing fans taunt their Chelsea counterparts. Those barbs don't sting a club who won the Champions League in 2012; nor would they sting Tianjin Quanjian - rebooted in their current guise only in 2015 and have only just earned promotion to the top flight. Money, not history, is power.
Abramovich's involvement brought to the transfer market a new kind of grotesqueness. Figures swelled once interest from Chelsea was confirmed, but he could pay it. The effect of that grotesqueness has faded over time. Big fees, big wages - that is the new normal and not just for Chelsea.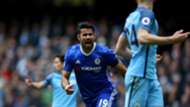 A clutch of fellow European super clubs are capable of offering the transfer fees and wages that Chelsea can and all would appear to be working within certain, though still sky-high, budget constraints.
Top players have their choice of Chelsea, Manchester City, Manchester United, Barcelona, Real Madrid, Paris Saint-Germain and Bayern Munich. Beyond that, teams are a little hesitant about going all in.
Once players are at those clubs, it is difficult to get them out. The money is spectacular and trophies are contested. There is very little difference in how these clubs entice new signings and keep their best players. Whether that privilege is earned quickly – like PSG, Man City or Chelsea – or of a more traditional kind has ceased to matter.
There has been a comfort and satisfaction in belonging to that elite band of super clubs up to now. It is the closest a club can be to invincible. Having money to upgrade contracts and hire more top class players keeps everyone happy.
Chelsea already beat last season after just 21 games
The money from China though is disorientating. The ambition of the state-backed Chinese Super League project has the potential to rupture the European power bases forever.
Chelsea, who as good as invented the modern transfer market, have hitherto been content to sell their squad surplus to China. The sales of Ramires, Oscar and Jon Obi Mikel brought in good money – far more than any European or English buyer would put up.
But the signing of Diego Costa would be the game changer for the Chinese Super League. Hulk wasn't; neither was Carlos Tevez. Not even Oscar. It is the one signing that would scare the life out of Europe's best clubs who remain as desperate as ever to hoard the best talents among themselves.
Costa belongs in the second tier of superstars directly beneath Cristiano Ronaldo and Lionel Messi. An established international player, the 28-year-old is comfortably the biggest striking talent in the world's most prominent football league. If Chinese money can get him, it can get anyone who is interested in going there.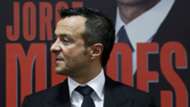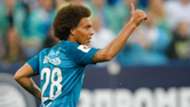 Costa's representative, Jorge Mendes, made a high-profile trip to China last week with his mind seemingly on exports. He has already sold Jackson Martinez into the Super League, been involved in the deals that saw Axel Witsel and Ricardo Carvalho move east this winter and it would appear he is sounding out buyers for more of his Europe-based clients.
The Portuguese super-agent has an increasingly large interest in the Chinese market. He is a minority stakeholder in Foyo Culture and Entertainment Co Ltd, a subsidiary of Fosun International Ltd, which is one of China's largest business conglomerates. Last year Mendes's Gestifute agency signed a "strategic partnership" with Foyo. The companies intend to co-operate on agent services for players, image rights and tournament organisation. 
Mendes was photographed in the company of Tianjin Quanjian's billionaire chairman Shu Yuhui and even gave him the gift of a Real Madrid shirt bearing the name of another one of his clients, Cristiano Ronaldo.
The newly-promoted club is operated by the huge Quanjian herbal medicine company and could finance the Costa deal at a stroke. Ominously for Chelsea, they are also known to be in the market for an imported striker to star in the team alongside record-signing Witsel.
The Chinese Super League is now threatening to do to the established European order what the Premier League has done to Europe for the best part of two decades.
It is a market growing at warp speed. It's potentially risky and probably unsustainable for the long-term. But for those players lucky enough to have their numbers called by Chinese clubs right now, it's a dream come true.
Chinese clubs have succeeded in drawing elite African and South American talents away from Europe and there is a simple reason for that. In order to make a decent living, African and South American players have to up sticks and leave home as a matter of course. Whether they end up in Spain, St Petersburg or Shanghai, they are thousands of miles from home regardless.
For a man like Costa, London is equally remote from his hometown of Lagarto as Tianjin is. It is an alien country, alien culture. Life for emigrant players like him is one of constant adaptation.
Alonso confident Diego Costa will remain at Chelsea
As it stands, Conte is making no promises about Costa's future. He deliberately batted back the question over whether or not his player had a future at the club. When asked if he'd play for Chelsea again he replied "why not?" but appeared to use Costa's back injury as an excuse for not playing him in the games upcoming.
"I prefer not to reply to questions that start with 'if'," Conte said about the possibility of his striker training with his team-mates next week. "On Tuesday we will see what happens.
"I don't know [when he will be back]. It's always very difficult. I don't have his pain. It's important to understand when he recovers from his pain. We'll see next week about this."
There are no guarantees that Costa would go; it remains to be seen whether or not the Chinese interest is being used to conjure an improved deal from his own club. Chelsea, in any case, would not be automatically be forced to sell a player who is under contract for another two years.
The attempted signing is enough and the message is clear; no player is off limits.