United States
Dempsey continues to fight winning battle against father time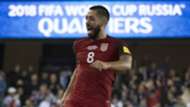 SAN JOSE, Calif. — The 2018 World Cup isn't really that far away time wise. Less than 15 months in fact, which isn't all that long unless you're a player edging toward the end of his career, knowing he can't take months, let alone years for granted.
This is why Clint Dempsey, fresh off a highlight-filled hat trick, wasn't about to take for granted his place at the 2018 World Cup (assuming the U.S. qualifies). Asked if he thinks he could see himself playing in the next World Cup—when he would be 35— Dempsey acknowledged it's far from a sure bet, but made it clear it remains a motivating factor.
"Well, it'd be awesome. It'd be a dream come true," said Dempsey, who already has three World Cups under his belt. "Any time you play in a World Cup it's a dream come true. It's one thing to say and another thing to do it. You've got to stay relevant, you've got to stay producing and you can't just say it and that's going to happen. I have to be on the field and do it. I'm just taking each game as it comes and hopefully I can play a part in helping the team. Yeah, that'd be great if I can be around for that."
That Dempsey, at 34, is still around and not just hanging around, but being a key figure, is a testament to not only his ability, but his will. When the 2014 World Cup ended, he said similar things about not taking his national team spot for granted, and not being sure what the future would hold. All he has done in the years since that last World Cup is continue to be the standard bearer in the attack. He was the best U.S. player at last summer's Copa America, which looked like it might be his international swan song after a heart condition was discovered, and Dempsey was forced to sit out the next six months.
Of course Dempsey scored in his first MLS match back from that injury and then dropped a hat-trick in Friday's vital World Cup qualifying win against Honduras. He capped the night with a stunning free kick and pounded his chest in a celebration that was equal parts "My heart is just fine" and "I'm still here, damn it."
Yes, Dempsey is still here, and the U.S. national team is better for it.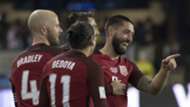 "What do I make of (Dempsey's) performance? I think it was exceptional, damn good," said U.S. coach Bruce Arena, who quipped that he knew he would start Dempsey as of last Monday, because he had nobody else.
That line drew laughs, but it was based in truth. If not for injuries suffered by Bobby Wood and Jordan Morris before the start of U.S. camp, Dempsey would likely have come off the bench against Honduras. Arena didn't want to rush Dempsey back into a starting role after being away for so long, but Dempsey's play and fitness levels with the Seattle Sounders, coupled with those injuries to Wood and Morris, opened the door and the former captain stormed through it in his typical fashion.
Christian Pulisic grabbed the headlines on Friday night, but it's a safe bet few people were happier to see his breakout performance than Dempsey, who looked rejuvenated playing alongside someone with the dynamic qualities to help bring the best out of everybody in the U.S. attack.
"Clint's an easy guy to play with. It's really fun playing in behind him and off of him," Pulisic said of his first start with Dempsey, which saw Pulisic assist on two of his older teammate's goals. "It was cool combining with him and Jozy. It's a good team."
"(Dempsey)'s strong, he's technical, he makes good runs and he always gives good support," Pulisic said. "That's exactly what we need from a forward, and he's clinical."
Dempsey gushes over Pulisic performance
Pulisic's emergence comes at a perfect time for Dempsey, who could thrive in a complementary role alongside the dynamic Dortmund playmaker. Dempsey looked genuinely happy on Friday, as he, Pulisic and Altidore combined to put on a show, bringing the best out of each other and decimating Honduras' defense in the process.
It is the kind of game Dempsey could certainly get used to and one he appreciates more after the recent ordeal he endured. The normally stoic Dempsey revealed some emotion regarding the uncertainty he had to battle through as he dealt with a heart conditioned that threatened to bring a premature end to his career.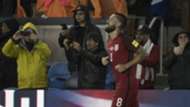 "Just going through the situation, it's tough," Dempsey said. "Trying to get back on the field I had to take a step back and I had to get going again and, yeah, there's moments you don't know if things are going to get right and you've got to pray about it.
"Yeah, there's moments where you're sitting at home and praying that things will work out. I'm just blessed that I can keep going, its what I love to do and hopefully there's more time left."
When will Dempsey's time with the U.S. national team run out? Friday's hat-trick made it clear the final chapter of his international career has yet to be written, and isn't going to be written for a while. A swan song in Russia at the 2018 World Cup would be a fitting ending, and nobody who watched Dempsey shine on Friday would doubt that he can make that fairytale finish a reality.