Manchester City
Deadlier than Lukaku: The stats behind Manchester City forward Gabriel Jesus' Premier League form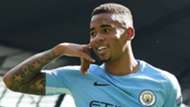 With seven wins from eight games and 29 goals scored, Manchester City top the Premier League table by two points going into the next round of fixtures. 
And while Kevin De Bruyne has been the focal point of conversation in recent weeks, Gabriel Jesus' exceptional form for the Etihad club has not gone unnoticed. 
The Brazil international has a return of six Premier League goals so far this season, joint-second in the rankings with Chelsea's Alvaro Morata, Tottenham's Harry Kane, and City team-mates Sergio Aguero and Raheem Sterling. 
Manchester United record-signing Romelu Lukaku leads the way in regards to goals scored in the English top flight with seven, though Jesus has proved deadlier than the Belgium international in front of goal.
Jesus has so far averaged a goal every 80 minutes in the league, with Lukaku's average on 102.9, while converting 31.6 per cent of his attempts compared to the United forward's 21.9%.
Only Leicester City forward Jamie Vardy (35.7%) currently has a higher conversion rate from those in the top 10 scorers, while only team-mates Aguero (77.8) and Sterling (79.5) have a better goals-to-minute ratio.
Jesus has had 19 shots at goal in 480 minutes of Premier League action this term, hitting the target 62.5% of the time - Vardy's shot accuracy is the highest from the top 10 scorers with 72.7% of his efforts testing opposition goalkeepers, with Lukaku, Alexandre Lacazette and Tammy Abraham second with 66.7% of their shots on target.
In all, Jesus has been directly involved in 21 goals in 20 starts in all competitions for City (15 goals, 6 assists) and has scored 13 goals in his 15 starts in the Premier League - only Mick Quinn (14) and Andrew Cole (15) have scored more goals in their first 15 starts in English top-tier history.
The 20-year-old also struck seven times in his 10 international appearances for Brazil in their World Cup qualification campaign.
Jesus is also yet to taste defeat in the league with City, going 17 games without losing (W13 D4 L0), a run which stretches to 26 when taking his Palmeiras playing days into consideration.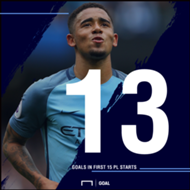 And he is only going to get better, if you are to believe City manager Pep Guardiola.
"Even with the top striker that he is - he's the No 9 for Brazil - and I promise you that is not easy, I think he has a lot of gap to improve," he previously said of Jesus. "There are a lot of things he can be better at in the future because he is young enough. I am excited to try to help him to do that. Especially the simple things that he can improve to become a better player."
Guardiola may opt to rest Jesus on Saturday when his City side take on Burnley with Aguero back in the fold after a rib injury, though the Catalan coach will almost certainly rely on the Brazilian to lead his attack for the remainder of the season as he chases the Premier League Golden Boot.
---
THE PREMIER LEAGUE'S BEST STRIKERS
---
| PL 17/18 | Games Played   | Minutes Played   |  Goals  |  Mins/Goal  | Shots, Total (inc. Blocks)   | Shooting Accuracy  % | Shot Conversion Rate (inc. Blocks)  % |
| --- | --- | --- | --- | --- | --- | --- | --- |
| Romelu Lukaku | 8 | 720 | 7 | 102.9 | 32 | 66.7 | 21.9 |
| Sergio Aguero | 6 | 467 | 6 | 77.8 | 23 | 50 | 26.1 |
| Gabriel Jesus | 7 | 480 | 6 | 80 | 19 | 62.5 | 31.6 |
| Alvaro Morata | 7 | 492 | 6 | 82 | 21 | 61.5 | 28.6 |
| Harry Kane | 8 | 706 | 6 | 117.7 | 50 | 55.9 | 12 |
| Raheem Sterling | 7 | 477 | 6 | 79.5 | 22 | 44.4 | 27.3 |
| Jamie Vardy | 7 | 607 | 5 | 121.4 | 14 | 72.7 | 35.7 |
| Mohamed Salah | 8 | 592 | 4 | 148 | 28 | 60 | 14.3 |
| Alexandre Lacazette | 8 | 559 | 4 | 139.8 | 16 | 66.7 | 25 |
| Leroy Sane | 8 | 408 | 4 | 102 | 14 | 60 | 28.6 |
| Tammy Abraham | 8 | 628 | 4 | 157 | 13 | 66.7 | 30.8 |