Manchester United
De Gea offers middle-fingered response to cheeky Mata 'love' post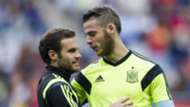 David de Gea has offered a middle-fingered response to a cheeky social media post from Manchester United team-mate Juan Mata.
On Monday, following the Red Devils' latest training session, Mata took the opportunity to poke fun at his Old Trafford colleague.
United 19/20 to beat Benfica to nil
The Spain international jokingly suggested that his fellow countryman is rather fond of him, with admiring glances being shot in his direction.
Find someone who looks at you the way @D_DeGea looks at me. pic.twitter.com/MxZoAGyjqR

— Juan Mata García (@juanmata8) October 30, 2017
Mata's post soon went viral, with supporters around the world quick to hail the comedic qualities of the popular playmaker.
It took a while for De Gea to notice that he was the subject of social media banter, but his response was just as amusing when it arrived.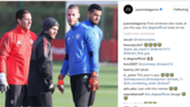 The exchange between Mata and De Gea would suggest that there is a relaxed mood inside the United camp ahead of their Champions League clash with Benfica on Tuesday.
The Red Devils have every right to be upbeat, as they head into European competition on the back of an important 1-0 victory over Tottenham in their latest Premier League outing.
Jose Mourinho has his side very much in the domestic title picture, while also progressing positively in the Carabao Cup and on the continent.