Manchester United
De Gea is no longer masking Mourinho's Man Utd problems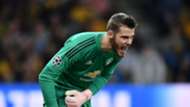 In television terms, it's season six at Manchester United following Sir Alex Ferguson's retirement and the 20-time league champions appear no closer to reclaiming their crown.
At the same juncture during Liverpool's title drought, in 1995-96, the Anfield outfit had, at least, accepted their decline and, under Roy Evans, began to pursue a more aesthetically pleasing style of play founded upon the attacking excellence of Robbie Fowler and Steve McManaman.
No such developments at Old Trafford, where Jose Mourinho's men are finding the act of re-establishing themselves as an offensive force a continued burden.
A club once synonymous with attacking football have not scored more than four goals in a Premier League game since Ferguson's final match in charge, while 14 different teams (on 69 occasions) have scored five or more in top-flight games since that 5-5 draw at the Hawthorns in 2013, including the assembled might of Hull, Stoke and Swansea, all of whom are currently languishing in the Championship.
But while the goals and now even the shots have dried up (6.1 shots on target per game in Ferguson's final seven seasons; 4.7 since), the main reason United are currently toiling in the Premier League is the defence that smuggled them to second place last season is unable to repeat their performance a year on.
And, harsh as it seems, a major culprit is goalkeeper David De Gea.
Opta's Expected Goals model showed that he saved a barely believable 13 goals in 2017-18, compared to the average goalkeeper facing shots from similar positions in similar game scenarios.
This was most notable in United's 3-1 win at Arsenal at the Emirates in December 2017, arguably the greatest demonstration of a smash-and-grab win in recent memory.
David de Gea goals conceded statistics
| Season | Goals Conceded | Expected Goals Conceded |
| --- | --- | --- |
| 2017-18 | 28 | 41.2 |
| 2018-19 | 12 | 9.1 |
While useful, building a club's long-term development around the stellar form of a goalkeeper is not a particularly sustainable approach, and 2018-19 seems to have confirmed this, with De Gea now in average, or even sub-par form, with United's results suffering as a result.
A Premier League table based on xGD last season (xG minus xG against) shows Manchester City in first, with Liverpool and Tottenham well clear of the rest in second and third. Arsenal and Chelsea come fourth and fifth, respectively, with Manchester United in sixth.
A team who had failed to finish in the top three between 2014 and 2017 sneaked their way back into the upper echelons last term and did so with the footballing equivalent of a power-up mode.
That has now elapsed, and the club and its supporters are forced to face up to the same offensive issues that have seen them average fewer than 60 goals a season since Ferguson strolled on to the Old Trafford pitch and demanded "Your job now is to stand by the new manager."
It has been the recurring theme of the soap opera that Manchester United have become since Ferguson's departure six seasons ago.