MLS
D.C. United re-signs Steve Birnbaum to multi-year deal
12:45 AM GMT+8
03/12/2016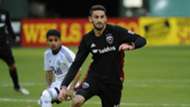 D.C. United has re-signed defender Steve Birnbuam to a multi-year contract the team announced Friday.
Mourinho: Schweinsteiger can stay at Manchester United
Terms of the deal were not disclosed, though The Washington Post reports it is a three-year contract with an option for a fourth season.
"Through his work ethic and unwavering competitiveness, Steve has developed into a top central defender in MLS," said D.C. United general manager Dave Kasper in a statement published to the club's official website. "Steve has become a leader in the locker room and has made a strong connection with his teammates, our fans and the city of Washington, D.C., and we are thrilled to have secured the long-term future of another talented young player as we move into 2017 and beyond."
The 25-year-old Birnbaum has developed into arguably the most important member of the D.C. United back line over the past two seasons. He started 26 games in 2016, a career high, and scored three goals. His performance this season earned him an MLS All-Star game nomination and a fifth-place finish for the MLS Defender of the Year award.
While Birnbaum received his first cap in 2015, in 2016 he scored his first goal for the national team in a friendly against Iceland, was a member of the Copa America Centenario roster, and multiple World Cup qualifying rosters as well. Birnbaum made four starts in total for the U.S. national team in 2016. 
Birnbaum had been rumored to be drawing interest overseas from teams in Israel, but now will remain with the team that drafted him second overall in the 2014 MLS SuperDraft.