Premier League
Crouch reveals Benitez prank: I bought him Mourinho's book for Christmas!
12:06 AM GMT+8
29/11/2018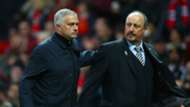 Peter Crouch has revealed that he once pranked Rafael Benitez by buying him Jose Mourinho's book.
Both Benitez and Mourinho have regularly clashed throughout their Premier League careers.
The Spaniard joined Liverpool in 2004, just a fortnight after Mourinho first took the reins at Chelsea.
In 2005, the two were embroiled in controversy after a heated Champions League semi-final that featured a Luis Garcia goal that, according to Mourinho, did not cross the line.
"They didn't score in the semi-final - but I accept they beat us," he said at the time. Mourinho then refused to shake Benitez's hand after Liverpool beat Chelsea in an FA Cup last four clash as their bad blood intensified.
Mourinho was later followed at Inter by Benitez - as at Real Madrid in 2015 - before the roles reversed at Chelsea, with the Spaniard succeeded by the Portuguese at Stamford Bridge.


Crouch spent three years at Liverpool under Benitez, winning the FA Cup, and says he drew the tactician in the Christmas tradition of Secret Santa, leading to a joke that failed to land!
"Funnily enough, I drew my boss once, in Secret Santa. It was Rafa Benitez. I drew Benitez," he said on the Peter Crouch podcast.
"It was no limit so we went all in. What I got for Rafa, he started changing his image a little bit, he started wearing a leather jacket. It was the goatee era. So I got him a new leather and I also got him Jose Mourinho's book!
"It was 'Jose Mourinho: How to Win The League'. And I thought, 'This is not going to go down well, this', and he had a look at it, he opened it up and he was actually genuinely interested. He was like, 'I'll read that, yeah', he didn't really get the joke."
"It was anonymous, he didn't know, I said 'I've got this one' to all the lads."
Benitez is now at Newcastle, with the Magpies on a run of three successive victories.