Real Madrid
Cristiano Ronaldo confirms ANOTHER baby on the way with Georgina Rodriguez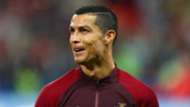 There may be only one thing growing faster than Cristiano Ronaldo's trophy count these days: his family.
The star attacker, 32, appeared to confirm he and his girlfriend, model Georgina Rodriguez, are expecting a child in comments made to Spanish publication El Mundo.
Bet on Real Madrid to win La Liga
When asked if he was happy with having another child on the way, the star replied with: "Yes, very much."
The child will be Ronaldo's fourth. He recently confirmed the birth of twins, who were carried by a surrogate, following Portugal's exit from the Confederations Cup. He also has a six-year-old son.
Rumours of Georgina's pregnancy have swirled for weeks, and photos posted on Instagram recently have only fueled those whispers.
A post shared by Cristiano Ronaldo (@cristiano) on Jul 10, 2017 at 1:37am PDT
A post shared by Cristiano Ronaldo (@cristiano) on Jul 12, 2017 at 8:54am PDT
During the interview, Ronaldo said he was "delighted" with his new twins and that while he did not do very well at changing diapers yet, he still makes his best effort.
Neymar willing to leave Barca for PSG
Ronaldo also said he will miss Real Madrid's tour of the United States while he remains with his family in Spain.