CAF Champions League
Crisis rocks Gor Mahia FC two weeks before they play Caf Champions League tie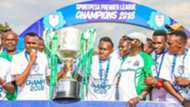 Gor Mahia are in a huge crisis less than two weeks before they launch their campaign in the Caf Champion League.
The Kenyan champions will take part in the Caf competition for the second season in a row after winning the league title but all is not well as the team is yet to hit camp in readiness for the preliminary fixture against Malawi giants Nyasa Big Bullets.
K'Ogalo CEO Omondi Aduda had revealed to Goal on Monday that the team will resume training on Tuesday ahead of the tie. However, Goal can now reveal that Gor Mahia players and some officials are on a go slow and have demanded that their grievances are met before they resume training.
A source within the club has confirmed that the players are demanding for their October salary that was promised to be paid before they left for England to face Everton and the club is yet to pay for the training venue.
"It is a crisis of sought because things are not moving at the moment. The players want their October salary paid before they hit camp and as a matter of fact, the club management is yet to pay for the training venue.
"They (players) don't have a venue where they can train and it is very unlucky that, we are heading into a new season, with the same problems that almost spoiled the 2018 season. We only have less than two weeks before we face Bullets and I will not be surprised if they kick us out.
"Furthermore, the players in the team have persevered for a long time and they want the office to clear the arrears because they have families to take care of. Others are struggling to pay rent and only received some token from SportPesa CEO during their tour of Everton. That is the only money they have received so far and is not enough to keep them going."
Gor Mahia will host the Malawian league leaders on 27/28 November before the return leg a week later at the Kamuzu Stadium in Blantyre.